Robot Model Kit 4K Retextures and Collectible Boxes
Fallout 4 » Models and Textures
Added: 13/05/2017 - 10:16PM
Updated: 16/09/2017 - 02:44PM
img 3 loading...
img 4 loading...
img 5 loading...
img 6 loading...
img 7 loading...
img 8 loading...
img 9 loading...
img 10 loading...
img 11 loading...
img 12 loading...
img 13 loading...
img 14 loading...
img 15 loading...
img 16 loading...
img 17 loading...
img 18 loading...
img 19 loading...
img 20 loading...
img 21 loading...
img 22 loading...
img 23 loading...
img 24 loading...
img 25 loading...
img 26 loading...
img 27 loading...
img 28 loading...
img 29 loading...
img 30 loading...
img 31 loading...
img 32 loading...
img 33 loading...
img 34 loading...
Description
Last updated at 14:44, 16 Sep 2017 Uploaded at 22:16, 13 May 2017
Thanks to everyone for putting this into the Hot Files! I hope you'll consider checking out
my other mods
as well.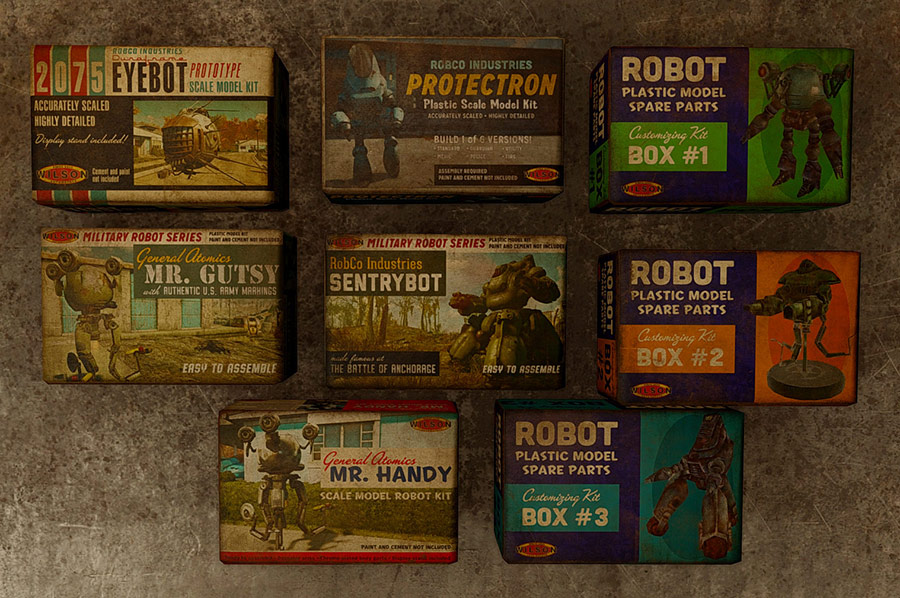 Many thanks to AlChestBreach and Oxhorn for including this in their mod spotlight videos!Mod Description:
This mod adds new 4K textures for each of the eight robot model kit boxes in the game. Each model kit box now has it's own unique artwork, rather than the single generic and boring box that Bethesda gave us.
The new artwork is based on vintage model kit boxes from the 1950s and 1960s. In particular, the artwork is influenced by the old Aurora model kit boxes as well as some from my own personal collection.
In addition to the eight new textures for the model kit boxes, the mod will now add a model kit box to your inventory after you find a model and build it.
The mod adds new 4K textures for each of the eight model kit boxes in the game:
- Protectron
- Mr. Handy
- Mr. Gutsy
- Sentrybot
- Eyebot
- Model Kit Parts Box 01
- Model Kit Parts Box 02
- Model Kit Parts Box 03
In the vanilla game, when you find a model kit box you can build it by activating it. The box disappears and is replaced by the robot model. But with this mod, once you activate the kit box and "build" the model, a model kit box with the new artwork is added to your inventory as a Misc. Item. You will then be able to view and inspect the model kit box artwork by selecting the box in your Pip-Boy inventory list and using the Inspect option.
The new Misc. Item model kit boxes have no value and have no weight. They are merely for decoration and collection.
Details:


As a life long build of plastic scale models, I've built up a collection of unbuilt vintage model kits with some pretty cool artwork. I had always thought it was sort of a cop out that the robot model kits used the same generic box artwork. I got looking through my stash of unbuilt kits and got the idea to redo the textures for a player home mod I'm working on. I thought others might enjoy seeing some actual model box art in the game, so I decided to make this mod and share it. Because Bethesda used the same mesh for all eight model kits, I needed to create unique meshes for each kit, with the associated material and texture files for each one. The vanilla mesh was duplicated and renamed for each kit, and the appropriate material/texture files were assigned to each. 
IMPORTANT NOTES:
The form IDs for the model kits remains unchanged. Only the meshes have been reassigned to use one of the eight unique NIF files. If you uninstall the mod, the in-game model kit boxes will revert back to the vanilla meshes and textures. You will also loose any of the model kit boxes in your inventory.
This mod does NOT add new model kits to the game, it will only replace textures of the ones already in existence in the vanilla game.
If you have already collected all the model kits, there will be no new boxes left for you to loot. As an optional file, I am including a batch file that uses the player.placeatme command to place one of each model kit box at the player's location.
If you wish to use the batch file, place it in the root level of your Fallout 4 game folder, then launch the game. When you are in-game, open the console and type the command:
bat modelkits
Eight model kit boxes (one of each type) will appear at your location. You can then activate each box to "build" the model and a new model kit box will be added to your inventory.
Installation:


Use the mod manager of your choice, or to install manually:
Extract the archive. It contains three files:
RRTV_RobotModelKits.esp
RRTV_RobotModelKits – Main.BA2
RRTV_RobotModelKits – Textures.BA2
Place all three files into your Data folder.
Other Notes:
This mod is PC only. There will not be a console version, so please do not ask.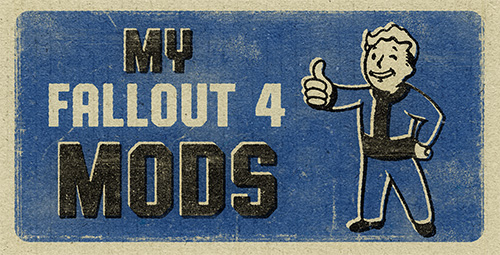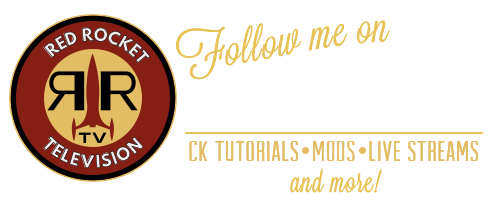 Licensing/Legal:
Do not redistribute or alter this work without explicit permission from the original author (RedRocketTV).This mod will not be uploaded to Bethesda.net or any other site. If you find it anywhere but on the Fallout 4 Nexus, it has been stolen and posted without my permission. Please report it as such.
Commercial use strictly prohibited.