About this mod
All of my guns in one plugin.
Requirements

Permissions and credits

Translations

Mirrors
3rd Person Reload Animations Showcase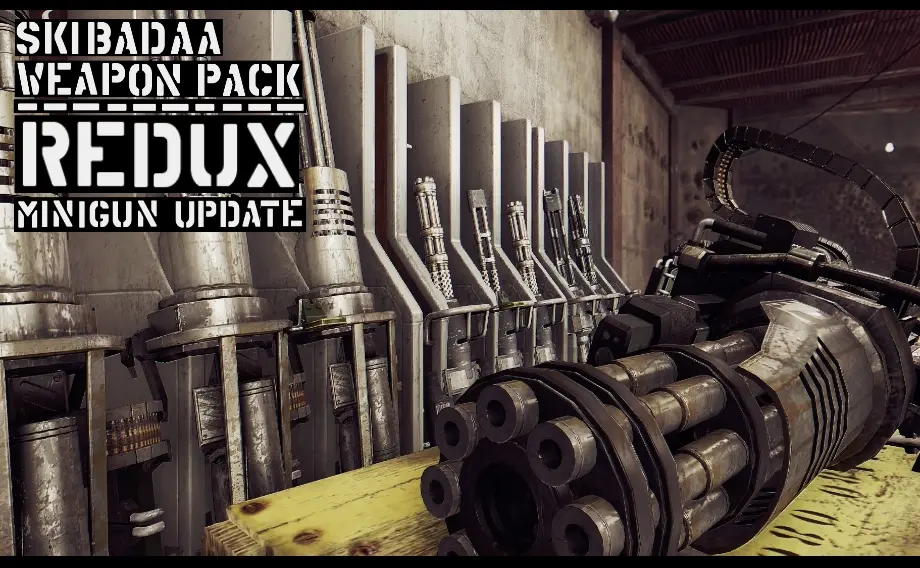 Skibadaa Weapon Pack REDUX
---------------------------------------------------
This is a compilation of all my guns into one neat little package. Your load order is welcome.
EDIT:
As of v1.1 I have added 3 new miniguns to the pack: The Personal Minigun, Avenger, and Vindicator. These have some awesome unique firing sounds courtesy of
Ollie1994
, 
Master7
, and 
Magmacow358
 so if you like the sounds then please give these guys some kudos!

Concerning Consoles:
------------------------------------


The Xbox version will be up shortly.
Xbox version is available on Bethesda.net.Installation:
--------------------

1. Make sure that your game is set up to play mods.

2. Download the main file.

3. Install with your mod manager of choice OR extract the contents of the archive to your 
    Fallout 4 "Data" Directory.

4. Activate "SkibsWeapons-REDUX.esp", it can go anywhere in your load order. 

5. Start the game.

6. Smoke some fools.

All weapons in this pack have been added to Levelled lists via script, and can be found in shops and on enemies in the world. If you must have one immediately though you can spawn one via console.

To do this first open the console and type:

For the Mk22/19:   help wh-mk 4 weap

For the IF88:   help if-88 4 weap

For the IF54:   help if-54 4 weap

For the WH-77:   help wh-77 4 weap

For the 223:   help 223 4 weap

For the Personal Minigun: help personal 4 weap

For the Avenger: help avenger 4 weap

For the Vindicator: help vindicator 4 weap

This will show you the item code for the weapon you want. Once you have the code then type:

player.additem xxxxxxxx 1

Where xxxxxxxx is the 8 digit item code.

Credits: 
-------------       

Bethesda for Fallout 4 and the CK.

Magmacow358 for use of his M134 sounds.

Ollie1994 for use of his minigun sounds.

Master7 for use of his minigun sounds.

Steampunk755 for his awesome animations.

Millenia for his 3dsMax tutorials.

AutoDesk for 3dsMax.

The Nifskope team for Nifskope.

The xEdit team for F4Edit.

Me, for making the mod.

You, for downloading it.