Ava Caravaggio LooksMenu Preset - Optional Cait Piper Curie Replacers
Ava Caravaggio LooksMenu Preset - Optional Cait Piper Curie Replacers
File information
Created by
literallybyronic
About this mod
Realistic LooksMenu preset based on my personal Sole Survivor. Optional Cait, Piper, or Curie replacers included.
Requirements

Permissions and credits

Changelogs

Donations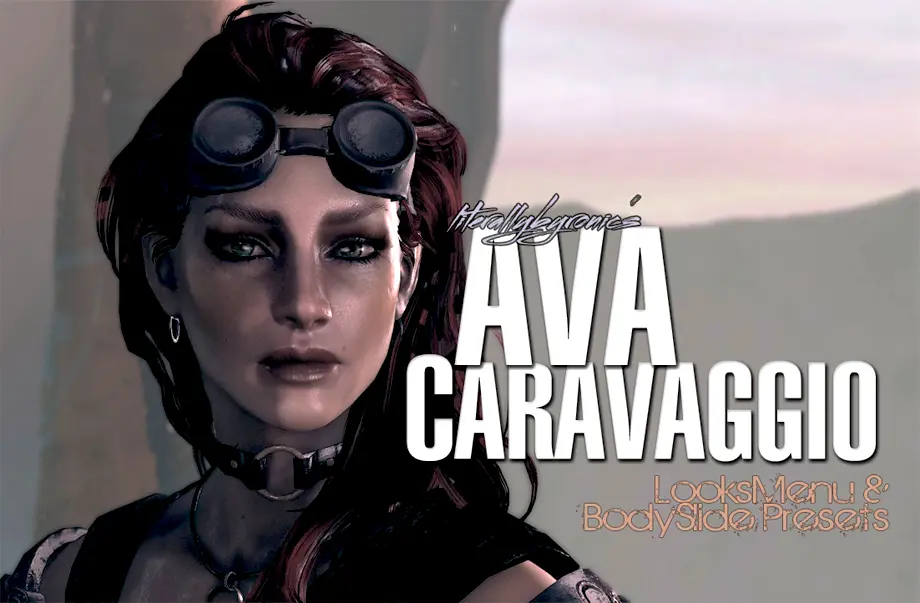 THIS MOD IS EXCLUSIVE TO NEXUS MODS.  DO NOT HOST THIS MOD ON ANY OTHER SITE.  DO NOT UPLOAD THIS MOD TO MODDROP.
A realistic LooksMenu preset based on my own personal Sole Survivor.  Optional Cait, Piper, and Curie replacers included in the file section.  BodySlide preset will return after updates.


Required to implement presets
: 
Required to achieve appearance in sample photos
:  

Apparel pictured in sample photos
:  
*** TROUBLESHOOTING/COMPATIBILITY ***The dependencies of this mod are incompatible with Real HD Face Textures 2k and any mod contained within LMCC.
Issues with CTDs, missing eyebrows, or colours showing up incorrectly are almost always caused by conflicts with LooksMenu Customization Compendium.  Please double check the LMCC page to ensure you do not have separate installs for any of the mods already contained within it, or any other mods that may conflict like eyebrows, colour palettes for skin and hair, tattoos, freckles, and moles, or basically anything that edits the humanrace values.
Dark/brown/black face bug:  If you have already double checked that the 
correct [Archive] strings
 are in your Fallout4Custom.ini file, then this is most likely caused by custom face textures and features having resolutions that conflict with the fixed resolution forced by the official Ultra HD Resolution DLC.  You have 3 options here- you can remove the UHD DLC, you can download the Black Face Bug patch 
here
, or you can rename the .esm and .bsa files associated with the DLC to anything other than their original filenames.  I use the renaming method since what that does is allow you to use the UHD textures in your game without triggering the fixed resolution limit, it guarantees compatibility with all vanilla sized custom textures and features.  Just ensure that the renamed .esm file is still checked off in your load order.
Do not apply the Curie replacer and load a save where she is in the memory lounger, apparently this will cause issues with the hair mesh as noted in the bug list.

Check out my companion/NPC overhaul at the link below: