About this mod
A fully customizable armor set based on my roleplaying story following the dark event known as "The Hour Of The Reaper", a story which is a direct prequel to my Assaultroness roleplaying story.
Requirements

Permissions and credits

Mirrors


This is a fully customizable armor set made out of 4 armor variations and 17 accessories, for both male and female.
Whether you want your character to look skimpy, clothed or armored, the customization options allow you to create a unique appearance.
Craftable under Armorsmith Workbench - Armor (Raider)
The mod is based on a roleplaying story, following the character known as the Skeleton Queen which is a prequel to the story of
Assaultroness
.
The mod includes :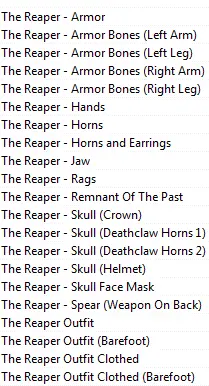 The accessories are tagged with a dash [ - ].



Q: I had 'The Queen Of Bones' installed. What do I do to replace it with this mod ?
A: Simply drop every outfit and accessory from your inventory and the inventory of your companions and save the game.
Then you can uninstall the mod and install this one instead. You'll have to craft everything.

Q: Why did you decide to upload this as a new file ?
A: Because this is a new and updated version of the mod, with the written lore, more accessories and male version.

Q: Does the armor have shoes ?
A: *Sigh*... yes, it does have shoes. You can read everything the mod offers by looking at the white list of items above.

Q: You promised us bone weapons! :(
A: I know and I tried to make them, but I don't have the tools to make'em. 

Q: Will you make a NON-AWKCR patch ?
A: No.