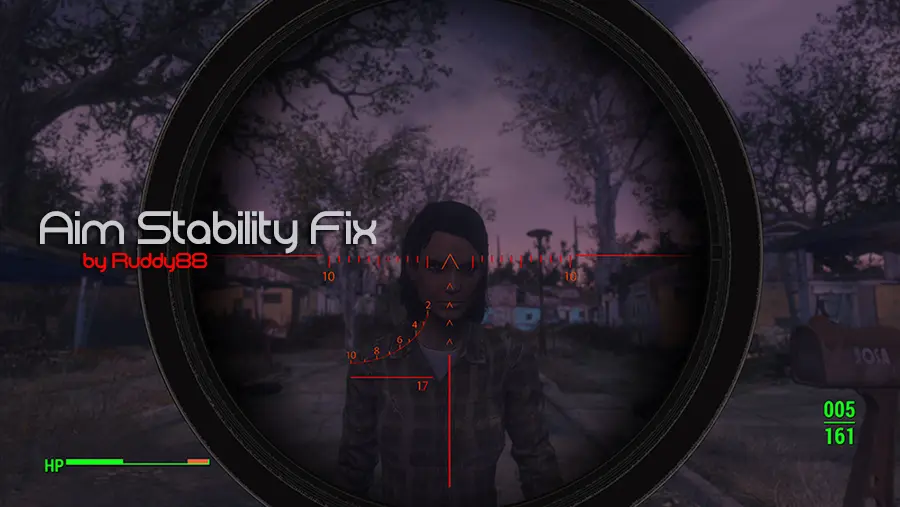 Aim Stability Fix - Better Aiming

Huge thanks to NegoSeth for putting together a comparison video!
WHAT IS IT:

A small mod that reduces the amount of sway on all vanilla weapons, without actually editing the vanilla weapon records (more compatible).

INSTALLATION:

Simply install with a mod manager of your choice, or extract the content of the mod to your data file and activate the mod manually.
COMPATIBILITY:

This mod should be pretty comnpatible with anything that doesnt also change Aim Models (nothing that I know does).
It also does modify a single gamne setting (fAimStabilityCrouchedScopeMult)
And it changes the Spell effect of the sniper 1 perk (not the perk itself though).
Given that it's highly unlikely that there will be any conflicts, it should be safe to put this anywhere in your load order.
If you use any mods that overhaul perks then this mod will still work but you MAY find that your weapon doesnt sway at all if any perks improve AimStability more than vanilla.
If anyone would like to make a quick video comparison i'd be incredibly grateful.
Also this should work on both XBOX and PS4, but I have no way of testing so if someone else would like to upload it to consoles I'd appreciate that too, just shoot me an inbox first to ask so I can grant permission, I don't want multiple versions uploaded so first in first served.

IF YOU WANT TO REMOVE THE SWAY OF SCOPES COMPLETELY THEN SOROKA HAS ALREADY DONE THIS WITH HIS MOD, BE SURE TO GET HIS RETEXTURES AS WELL, AS SEEN IN THE SCREENSHOTS!
Scope Stop
+ 
Retexture of Scoper MS-RV
---------------YOU DONT HAVE TO READ THE STUFF BELOW HERE---------------
OK, BUT TELL ME MORE:
I was always really annoyed by the amount of sway on weapons in Fallout 4.
I've found there is 3 ways to reduce it.
1. Use a Marksman's Stock.
2. Crouch/Sneak.
3. Get the Sniper Perk.
Before we continue, its worth noting that AimStability is what causes sway. The maximum it can be set to is 1 (no sway at all). All weapons start with a AimStability of 1, and when you attach a scope it adds a property that REDUCES the AimStability value (causing sway).
This is why you only get sway when using scoped weapons and not when using ironsights or reticles.
Having all 3 of those, IMO, should make a dramatic difference (given the level requirement for sniper and the fact you need gun nut 2 for marksmans stocks), but in my opinion the sway was STILL too high.
So I made a mod that essentially squashes the ranges of AimStability to all vanilla aim models.
The base sway amount now starts higher, and the various modifiers have been reduced as to not make them redundant.
The result is, in my opinion, a much nicer amount of sway.
Since I have only modified the Aim Models and not the weapons themselves, this should retain pretty good compatibility with other mods, and will also share its effects with any weapon mod that uses vanilla aim models (DKS Sniper for example).
Unfortunately, Weapon Mods that use their own Aim Models will not benefit from this and will behave as usual.
I will add a quick explanation (at the bottom of the mod page) of how to convert modded weapons that use their own aim models to work the same as this.
EXTRA STUFF FOR PEOPLE WHO WANT TO MODIFY OTHER WEAPON MODS:

For those that like this, and want to convert other weapon mods to also use these values, its pretty simple.
However, a quick warning. 
There is a small handful of mods that deviate from the usual way of creating weapons, this means certain mods may not work as well with these values as they may modify AimStability differently.
An example of this is Dazzerfong's MK14EBR and Giggity's XM2076 (both great mods).
They both add AimStability on some other object modifications (laser sights etc) and may use values that are different to typical vanilla values, as such, they may end up over correcting.
This wont do anything harmful to your game, itll just mean the final AimStabiloty value may be over 1, meaning you will have absolutely no sway at all. 
MOST mods though, will simply copy values over from vanilla records and will get similar behaviour to the vanilla weapons.
Just open up the modded weapons ESP in FO4Edit.
In the left panel, expand the plugin, then expand "Aim Model".
If it does not have an Aim Model group then its probably using the vanilla ones.
Most mods will only have 1 Aim Model here, so just click on the record, and in the right panel, at the very bottom will be "Stability - Base Stability".
Right click the value, and change it from 1 to 1.09.
Thats it.
if you find a weapon mod that doesn't quite work with this please let me know, I may have the time to be able to make a patch for it.