About this mod
An outfit pack of 10 outfits based on a pin-up art.
Requirements

Permissions and credits

Mirrors

Changelogs

The winner of my voting contest in which those interested enough in my future projects could vote for the next one to be released.

This mod is an outfit pack of 10 outfits, inspired by the pin-up art seen below.

Craftable under the Armorsmith Workbench > Gunner category.



RECOMMENDED MODS


HIGHLY RECOMMENDED WITH

Barefoot Footstep by GrozaTerroristow, which fixes the barefoot sounds in the game.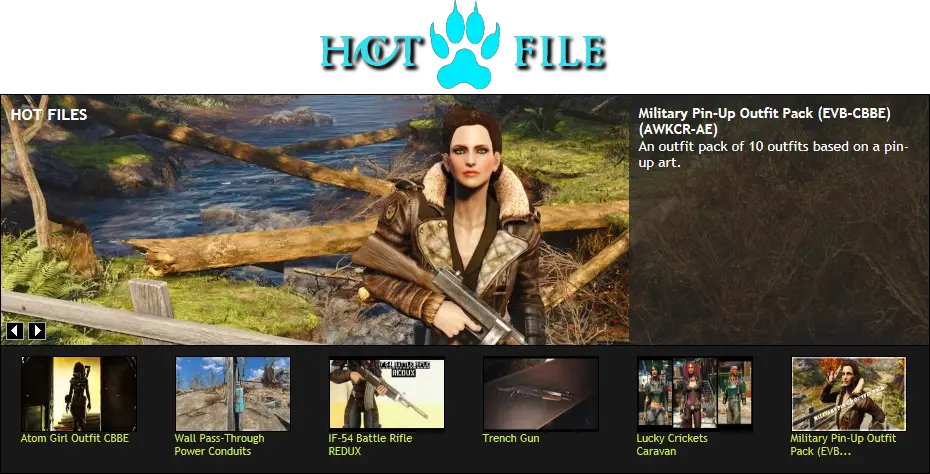 Q: Why did you make this ?
A: I just felt like it. Saw the beautiful pin-up art and wanted to wear it. It's feminine, it's gorgeous and absolutely stylish.

Q: What does "NS" in the images stand for ?
A: No stockings.

Q: The mod won't download. Any help ?
A: Nexus Mods Basics 101 - newly uploaded files need to get scanned first before they're available to be downloaded through Nexus Mod Manager. There's a tiny circle next to each file that shows the current status of the scan.




TOOLS USED

Bodyslide and Outfit studio - For mesh editing
Nifskope - For mesh optimizing
GIMP - For texture editing
Material Editor - For material (BGSM/BGEM) editing
BAE (Bethesda Archive Extractor) - For exporting materials/textures or meshes from the game
Creation Kit and FO4Edit - To implement the mod into the game or make AWKCR/AE based mods