About this mod
Adds 1 cameo, 6 outfits and 8 accessories, inspired by my lore-friendly roleplaying story.


Requirements

Permissions and credits

Mirrors

Changelogs

This outfit pack was inspired by my little lore-friendly roleplaying story which is connected to the main events of the game, but it's not just an outfit pack. It also puts subtle cameos into the game of the character known as the "Forsaken Assassin":

- The Sole Survivor crossed paths with her for the very first time during the kidnapping of Shaun.
- 60 years later, she occasionally steps out of the shadows to protect the Sole Survivor by assassinating enemies (Mysterious Stranger Perk)

There are three outfits that represent different time periods of our heroine's time in the Institute.

[WHITE INSTITUTE ASSASSIN]
This uniform represents the time when she was rescued by the Institute from certain death. Due to severe wounds and loss of her right hand and entire left arm, the Institute designed this suit to keep her alive, along with cybernetic implants which maintain her synthetically reconstructed right hand and left arm.

[BLACK INSTITUTE ASSASSIN]
This uniform represents the time at which she became an Institute operative. Under Kellogg's training and as his protege, her black theme and efficiency inspired the Courser outfits in the near future. The Sole Survivor encountered her for the very first time, during the kidnapping of Shaun.

[FORSAKEN ASSASSIN]
The torn, rugged and rusty outfit, known as the Forsaken Assassin, is set in the present day. Several years have passed since she got betrayed by Kellogg and left for dead with nothing but her mask and cybernetic implants. Believing the Institute was behind the betrayal as well, the heroine had to scavenge whatever rags and tech she could find, in order to stay incognito in cities monitored by the Institute.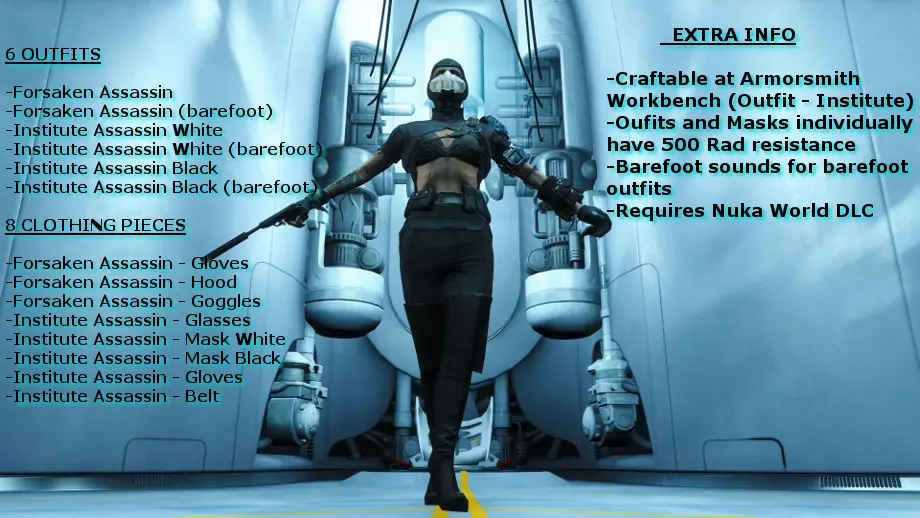 HIGHLY RECOMMENDED WITH

Barefoot Footstep
 by 
GrozaTerroristow, which fixes the barefoot sounds in the game.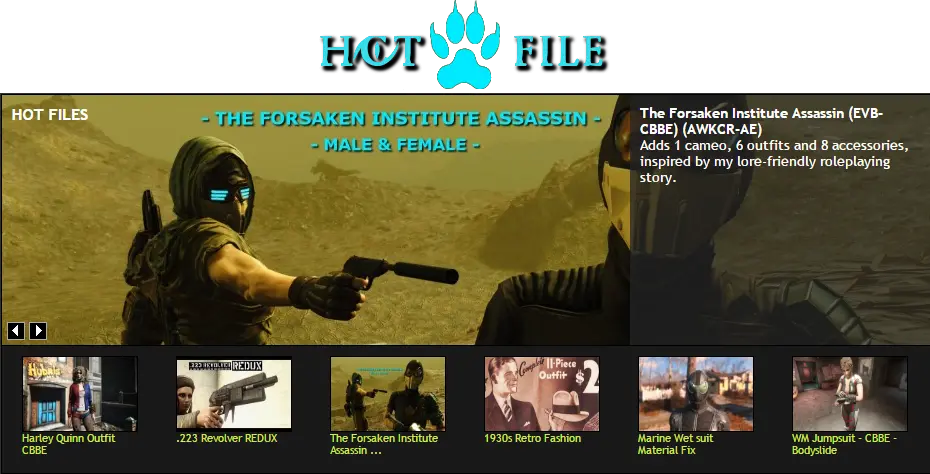 Q: Why does the mask have 500 Rad resistance?
A: Because the outfit is supposed to be Institute high-tech. Also because of the lore I wrote above. She is enhanced in every possible way.
Q: Why does the waistcloth split weirdly on CBBE ?
A: On EVB, the waistcloth split is perfect. CBBE Bodyslide unfortunately makes it bend the wrong way.
I can only correct it on CBBE Vanilla. I can't unfortunately make it look good with bodyslide.
Q: What's up with the lore ?
A: I like to roleplay a lot, so I wrote it incase anyone wants to read it. I make my own stories in Bethesda games.
Q: Any possibility of a non-awkcr patch like your other mods ?
A: Yeah, I'll make one.
Q: Is this female only ?
A: As of 1.2, male EVB version is available.
TOOLS USED
Bodyslide and Outfit studio - For mesh editing
Nifskope - For mesh optimizing
GIMP - For texture editing
Material Editor - For material (BGSM/BGEM) editing
FO4Edit/Creation Kit - For putting the mod into the game
BAE (Bethesda Archive Extractor) - For exporting materials/textures or meshes from the game