Immersive Wastelanders - Cait Piper Curie MacCready Danse Preston Deacon and More - Replacers and Presets included
Fallout 4 » Companions
Added: 27/10/2016 - 03:08AM
Updated: 22/09/2017 - 06:24PM
Description
Last updated at 18:24, 22 Sep 2017 Uploaded at 3:08, 27 Oct 2016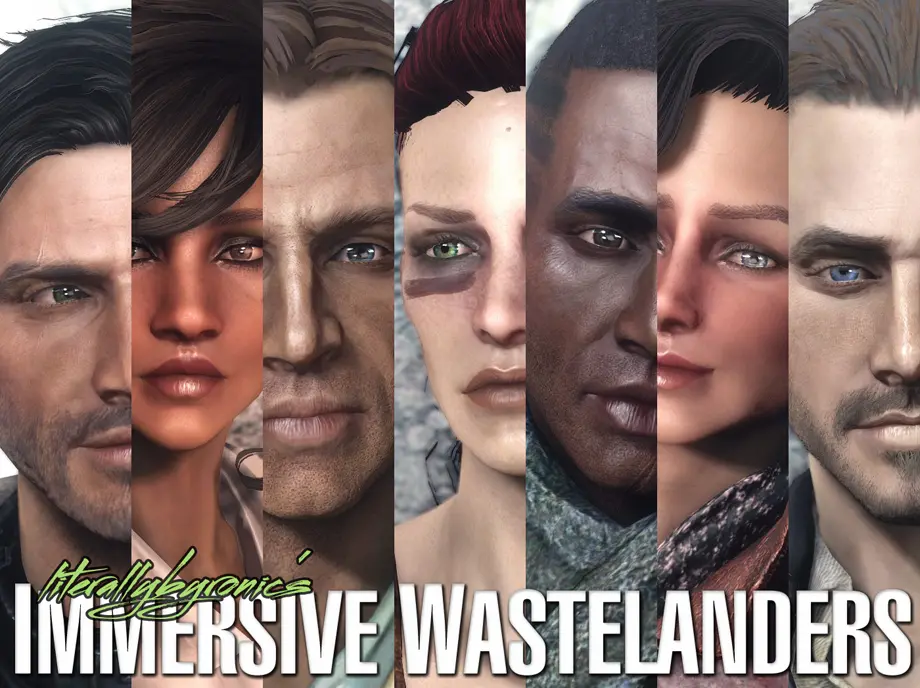 THIS MOD IS EXCLUSIVE TO NEXUS MODS.  DO NOT HOST THIS MOD ON ANY OTHER SITE.Realistic, age-appropriate face replacers for human & Gen 3 companions and other NPCs.  WIP.



(skip to 8:43 for IW feature)

Required Mods
:  (These are masters to IW, it will not work without them.  Certain of the single character .esps will require either LMS&E OR Commonwealth Cuts but not both, you can open the .esps in FO4Edit to see what the master requirements for each individual character are.   I WILL NOT make compatibility versions to avoid using these master files, so don't bother asking.)
Recommended Mods
:  (IW will run without these, but the NPCs will most likely not look anywhere close to the sample photos.  the face textures are a fairly significant part of their appearance in particular so I highly recommend using them.)
Optional Mods
:  (my personal preference, but not really necessary for IW)
*** TROUBLESHOOTING/COMPATIBILITY ***The dependencies of this mod are incompatible with Real HD Face Textures 2k and any mod contained within LMCC.
Issues with CTDs, missing eyebrows, or colours showing up incorrectly are almost always caused by conflicts with LooksMenu Customization Compendium.  Please double check the LMCC page to ensure you do not have separate installs for any of the mods already contained within it, or any other mods that may conflict like eyebrows, colour palettes for skin and hair, tattoos, freckles, and moles, or basically anything that edits the humanrace values.
If the mod does not affect the characters you are trying to change it is most likely because you have previously edited them using the character editor, this will overwrite any changes made by mods in any subsequent saves.  You can either use LooksMenu and the character editor to apply the preset to the character, or use Face Ripper to reset the character to vanilla on your save game.
Dark/brown/black face bug:  If you have already double checked that the
correct [Archive] strings
are in your Fallout4Custom.ini file, that you have no conflicts with LMCC, and you are not using Real HD Face Textures 2k, then this is most likely caused by custom face textures and features having resolutions that conflict with the fixed resolution forced by the official Ultra HD Resolution DLC.  You have 3 options here- you can remove the UHD DLC, you can download the Black Face Bug patch
here
, or you can rename the .esm and .bsa files associated with the DLC to anything other than their original filenames.  I use the renaming method since what that does is allow you to use the UHD textures in your game without triggering the higher fixed resolution for faces, so you will still be able to use all vanilla sized custom textures and features.  Just ensure that the renamed .esm file is still checked off in your load order.
Unique Followers version: Do not attempt to use this version without thoroughly reading the instructions for
Unique Followers
.  UF is
NOT
a plug-and-play mod, you need to have at least a basic understanding of meshes, textures, what they do and how their file/directory system works to use it, since you will be picking and choosing different meshes and textures for each character and putting them in the proper directories.  
NEW in 1.5:
Vanilla vs. IW v1.5:

Planned...
X6-88
Sturges
Jun Long
Marcy Long
Fahrenheit
Mel
Ellie Perkins
Ronnie Shaw
Proctor Ingram
Knight Rhys
Scribe Haylen
Trashcan Carla
Mama Murphy
Please leave NPC requests in the comments and I'll get to them.  Eventually.
Created with 
Face Ripper,
FO4Edit, & FOMOD Designer


Check out my Sole Survivor LooksMenu & BodySlide presets at the link below: