Do you play on the Minutemen's side or as Railroad agent? Did you already fight the Brotherhood and captured their Vertibirds? And did you notice your pilots are dressed like they were random faction members just coming from their first walk through the Commonwealth? And you don't like that? This mod is for you.
I know, this is a detail for nitpicker. But we live in times people do even care about the direction of toilet paper rolls in their favourite videogame. And I
am
a nitpicker; especially when it comes to aircraft and everything around. I wrote some text about why I made this mod placed in the "Articles" section.
REQUIREMENTS:
Proper gear is already available on the Nexus, so we have some prerequisites. To give your brave Minutemen pilots a professional look, please follow these steps:
Download, install and endorse Eli's Armour Collection Remade by Elianora. If you already installed Eli's Utility Jumpsuits this should work too, but this is not tested. Let me know if you tried it.
Download, install and endorse CROSS Uni Headset by Niero.
Now you're ready to go on with this mod's....
INSTALLATION:
Let the Nexus Mod Manager do the work. If you have the requirements properly installed, you should know how to do it.
WHAT YOU GET:
You? You get nothing. This mod brings two new jumpsuits and two new helmets (one per faction) to the game. Also it predefines a CROSS Uni headset for the headgear levelled lists. And it equips your brave Vertibird pilots with these items.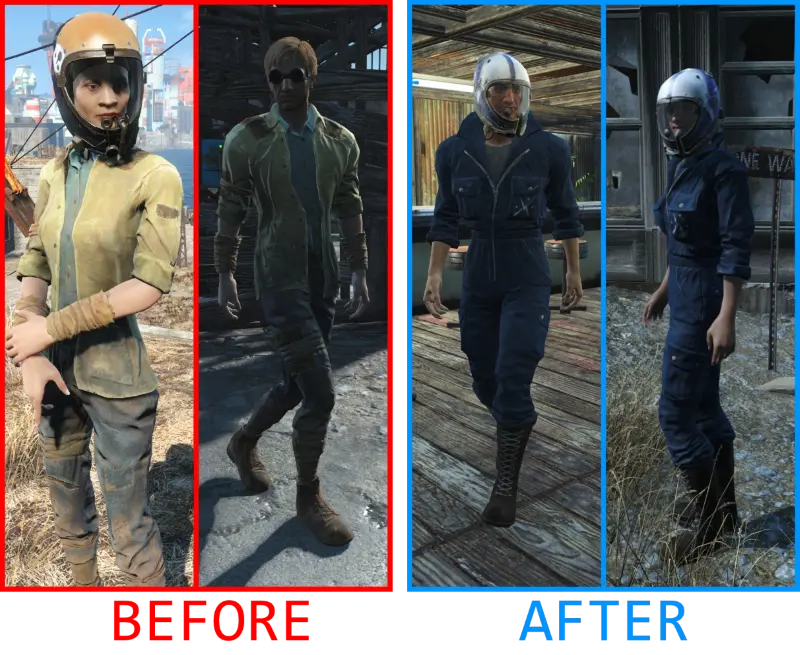 Of course you can craft the headset at the Armoursmith workbench like any other variation of the UNI Headsets, but the jumpsuit and the helmet are not craftable anywhere and not sold by any vendor.
You might be the sole survivor, the general of the Minutemen and the hero of whatnot, but you are
not
a Vertibird pilot! So these outfits are
not for you
! And this is why this mod is called "Proper outfits for ... Vertibird pilots" and not "Craftable ... pilot outfits for your player character".
However if you can not live without wearing the outfits, you have to strip them off the cold dead body of a unluckily deceased pilot.
Or you may want to use the console:
Type help "Minutemen Flight" 4 ARMO or help "Railroad Flight" 4 ARMO  
Get the ID for either the helmet or the jumpsuit
Type player.additem ID 1 (1 can be replaced by any number of items you want)
Helmet and jumpsuit are retextured items with the same stats like their vanilla counterparts.
Q & A:
Q: Would you make a standalone version without the requirements?
A: There is an optional download named "Lite Version". It has no requirements, but also it does
not
add any custom faction themed stuff to the pilots. Just vanilla jumpsuit and Flight Helmet.
Q: Would you make the outfits craftable?
A: No.
Q: Would you upload the mod at Bethesda.net/somewhere else than the Nexus?
A: The plan is to upload the Lite Version at Bethesda.net. No time schedule.
Q: Would you add more items to this mod?
A: Maybe.
Q: Do you take requests?
A: I am not the person you may want to ask that question. I'm a noob with textures and .esp edits. And I have absolutely no clue when it comes to scripting or 3D modelling. So: No.
Q: I have issues with your mod! The jumpsuit is pink! My game CTD'd! My HD fired up!
A: I made this mod for my personal use and played with it for over six weeks before I decided to upload it. It works. When the file is broken for whatever reason, I'll reupload it. Otherwise you may have failed to install the mod and it's requirements properly or it conflicts with another mod. In both cases I give no support. Mod conflicts are very unlikely; it may appear that the levelled list for the pilot's headgear or their outfit are changed by another mod but this should cause no crashes or something.
Q: The pilots don't wear your outfits!
A: This is what happens when my mod conflicts with another mod. Find the other mod which changes the pilot's outfit and/or the levelled list for their headgear and put my mod below it in your load order. And please let me know about that.
Q: Is the female jumpsuit CBBE/Bodyslide compatible?
A: If the Red Rocket jumpsuit from your vanilla Fallout 4 installation is compatible, then my jumpsuit will be too. This mod just wraps textures around some meshes you already should have.
Compatibility:
Depending on the installation options the mod "1950's Feminine Outfits" by crimsonrider (replacer version) may change the meshes of the vanilla mechanic/Red Rocket jumpsuits. This does affect my mod. I did not test it yet, but referring to crimsonrider's mod description your female pilots may wear some heels instead of boots then. I will not release a patch for this, sorry. If you want female pilots with boots, don't install the jumpsuit replacer.
If you use the CBBE Skimpy Armor and Clothing Replacer v2 by 2pac4eva7 you will recognize that the jumpsuits are transparent from inside. You may want to download the patch under "Optional files".
Credits and thanks:
Elianora for Eli's Armour Collection Remade which saved you from getting a shitty jumpsuit retex done by me. Also thanks to her for all her other wonderful mods!
Niero for CROSS Uni Headset and all the other incredible mods. They bring a great variety to the Commonwealth and fun to the player! And an extra "thank you" for the permission to use the headset this way!
The authors of all those mods I reverse-engineered to learn how to get shit work
The authors of all other mods. They do hard work just for fun!
Bethesda Softworks for making great games
The Nexus staff for the greatest modding environment on the planet
The team behind FO4Edit for this great tool which is still a "must have", even with BethSoft's Creation Kit available
ousnius for Material Editor, very useful tool
Apologies:
for the ugly helmet texture
for the clumsy text. English is not my native language.