About this mod
OBSOLETE. Now supported under Immersive Wastelanders.
Requirements

Permissions and credits

Mirrors

Donations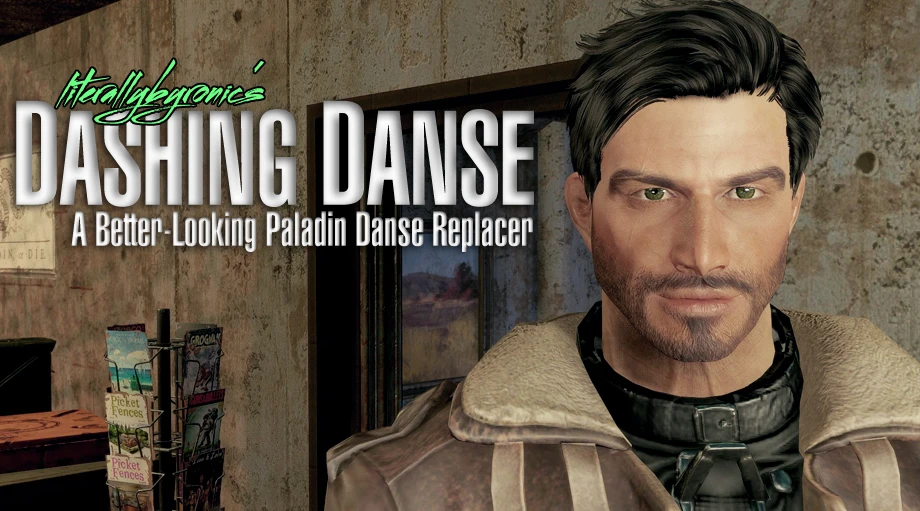 This mod is EXCLUSIVE to nexusmods.com (PC) and bethesda.net (console).  DO NOT HOST THIS FILE ON ANY OTHER SITES.

***NOW SUPPORTED AT IMMERSIVE WASTELANDERS***
Dashing Danse:
A Better-Looking Paladin Danse Replacer
~~~~~~~~~~~~~~~~~~~~~~~~~~~~~~~~~~~~~~~~~~~~~~~~~~
I got a user request for a Danse replacer, so here he is!  Cleaned up textures, resculpted face, and new hairstyle while trying to stay true to the vanilla character aesthetic.
KS Hairdos
 is 
required
 for this mod.  Install KS Hairdos first, then my mod.
Install using a mod manager like NMM, or follow the instructions 
here
 to edit your Fallout .inis to allow mod use, then extract
the .esp to your steam/steamapps/common/fallout 4/data/ directory.  If you have previously edited your Danse in game you'll need to use Face Ripper to reset him to vanilla in your most current save.
~~~~~~~~~~~~~~~~~~~~~~~~~~~~~~~~~~~~~~~~~~~~~~~~~~