File information
Created by
registrator2000
About this mod
Shout to your companions with a hotkey without having to aim at them first. Position them, switch up their equipment and be a lot more tactical in your fights.

Also, cut companion tactics restored - choose if they should stay close to you or keep a distance, and choose whether companions are aggressive or passive.
Requirements

Permissions and credits

Translations

Changelogs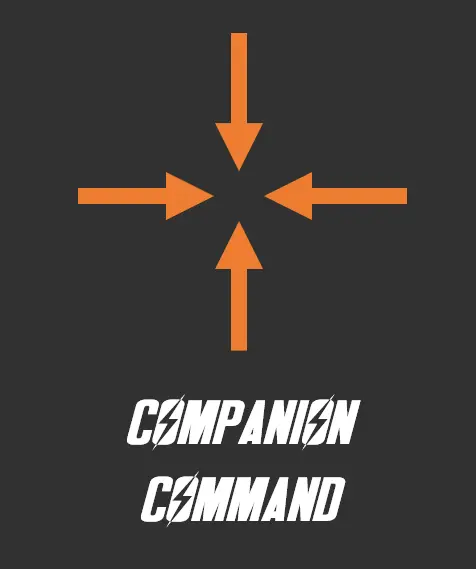 Adds keys for shouting to your companion from wherever you are, letting you position your companions, switch up their equipment and be a lot more tactical in your fights.
Keys (configurable):
G - Command Companion
H - Toggle Hold / Follow (independent of Follow/Stay via dialogue, so don't use both together)
Shift-G - Tactics: Select companion distance (Close, Medium [default], Far)
Ctrl-G - Open Companion Inventory
Companion tactics were originally part of the game but was cut from Fallout 4. Why? I don't know! Perhaps there wasn't enough space with just four dialogue options. There are recorded lines for requesting companions to stay back, attack on sight, etc. Unfortunately Bethesda didn't get around to getting everybody to record their lines.
I've restored this. You'll be able to change tactics with all companions via hotkey, and you'll get special voiced responses from Codsworth, Paladin Danse, Curie, Deacon, X6-88, Cait, Preston Garvey and Strong. Some of them prefer certain combat styles over others.
Requirements:
Mod Configuration Menu
Installation:
Install with your preferred mod manager, or copy the files in the download to your Fallout 4 Data folder for a manual install.
Note that Companion Command is a script-only mod - there is no plugin to activate!
Assign keys to your desired actions in the MCM menu.
Recommended:
Talking about tactics - Bethesda made some very poor decisions regarding companion distance when you enter stealth. I highly recommend using
Companion Stealth Distance Fix
by spacefiddle in conjunction with this mod for a better companion experience. The mod will prevent your companions from rushing up to you and overriding whatever distance orders you've given them when you enter stealth.