About this mod
Fixes several bugs with the "good" ending of the Vault 81 quest Dependency.
Tina De Luca can be recruited as a unique settler.

"No shit? You actually did it." - Tina De Luca / Ashly Burch
Permissions and credits

Mirrors

Changelogs

Donations
______________________________________________________________________________________________________________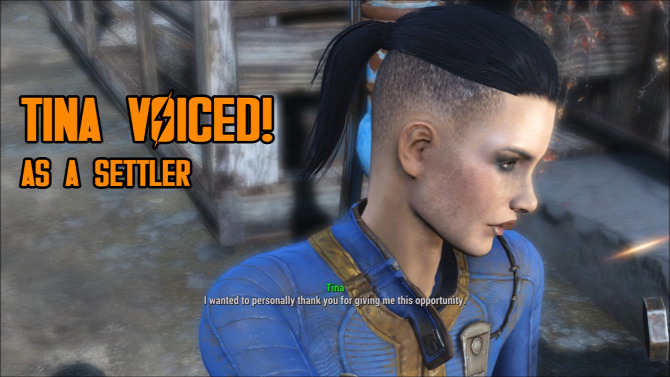 There's an updated version of this mod called
Tina De Luca Voiced as a Settler (Dependency Revisited)
. It has all the benefits of this mod plus it adds over 50 new dialogue lines to Tina as a settler to fix the NPC's lack of vanilla voice data and settlement dialogues after her recruitment. I decided to upload it as a separate mod because Dependency Quest Fix was a small bugfix and this is a complete voice overhaul for her as a unique settler. Please consider using
Tina De Luca Voiced as a Settler
instead of this mod.
Thank you!

"No shit? You actually did it." - Tina De Luca / Ashly Burch

WHAT IT DOES

Fixes several bugs with the "good" ending of the Vault 81 quest Dependency.
Tina De Luca can be recruited as a unique settler. The quest ends correctly as it should after the final talk with her.




Check out the video for more details!




HOW TO INSTALL

Extract the contents of the rar file to your Fallout4/data folder.

Enable DependencyQuestFix.esp using a mod manager or manually.

Ensure these lines appear in either your Fallout4Prefs.ini or Fallout4Custom.ini:

[Archive] 
bInvalidateOlderFiles=1 
sResourceDataDirsFinal=

If you have trouble installing mods, check these tutorials by Gopher:
- Enabling Mods for FALLOUT 4
- FALLOUT 4: Installing Mods on PC (MANUALLY)

COMPATIBILITY
Compatible with Fallout 4 patch 1.4 and older versions.
HOW TO USE IN THE GAME
There's not much to do really. Install it, start the game, and the quest will be fixed.
REVIEWS
Just received a nice review by
BreakfastLunchGaming
. Thanks for that! :)
FUTURE PLANS
None at the moment.
TOOLS USED
CHECK OUT MY OTHER MODS