File information
Created by
altered beast
About this mod
Maybe... (will see a remake mod)

A complete thematic of Fallout 1 (includes main menu, HUD, music, video, and more).
Permissions and credits

Changelogs

Donations
A complete thematic of Fallout 1 

NEW
Now you can pick and choose the elements you want between 4 modules (+ some optional files)
[all modules are independent from each other, so don't be afraid to skip modules you don't want]
01 Main menu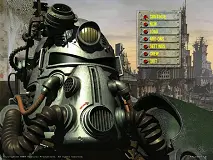 Replaces main menu, intro video, mouse cursor, loading mini icon, level up, and death sounds. Also add a vault 13 suit (craftable at chemistry stations).
MAIN MENU REPLACER INSTRUCTIONS
 : You need to set the HUD color to white to see the interface elements correctly (full red, green and blue).
⚠ Know bugs : The ingame pause menu have graphical glitches. Until I solve the problem, use your pipboy and then pause the game to see the menu. Sorry.
02 Music
Replaces musics, and adds 25 new tracks to bring more audio diversity in all situations. Goodneighboor now have his proper music tracks (and in two specific locations in Diamond City, but I let you discover the exact places). Combat musics are disabled to make you fear encounters.
Instructions : If you use module 01, simply overwrite all the files.
Note: Death sounds, level up sound and vault 13 suit are included.
03 HUD

Replace HUD with FO1's.
04 Loading screens
Replaces loading screen with FO1's (choose one between 5 available).
Credits :
Classic vault suit 13

 (
OniNigma, Jetacon72, and
T41NT3D)Recommended mods :
Return of the Vault Dwellers (Fallout 1 Character Presets)
by 
SomeCouchPotato
Holy Hand Grenades
by 
mrresistance

My other mods :