File information
Created by
CaffeinePainter
C A F F E I N E P A I N T E R ' S
R U S T I C   B E D
DESCRIPTION
Custom bed, both new model and textures, for all your bedy needs.
It can be used in Skyhold in the inquisitors quarters, choose the Orlesian bed III for the Skyhold Customizer in the Undercroft.
Apart from the inquisitors quarters the bed can also be seen all over Thedas.
Replaces this bed: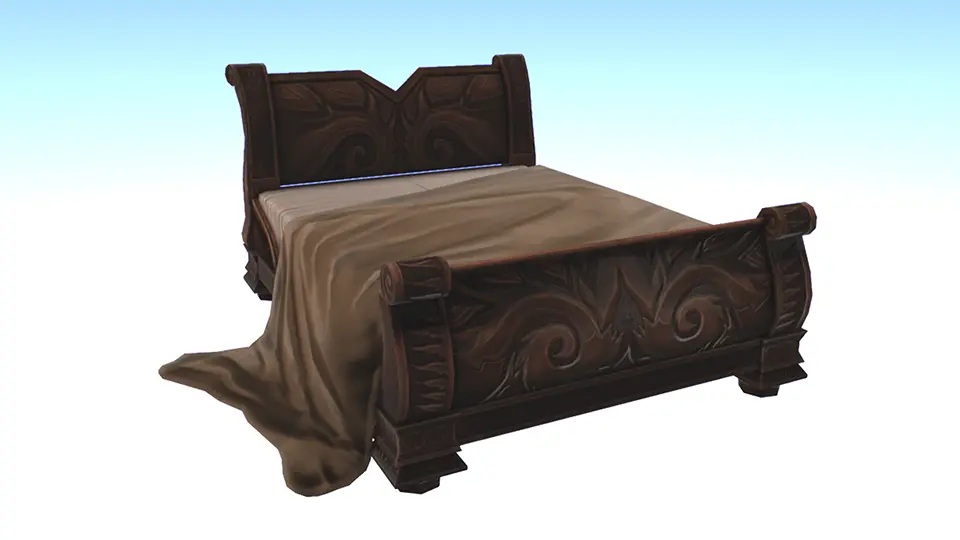 In some cases there are clipping issues with vanilla pillows that are added on top of the bed,
but it shouldn't be too much of a bother.
This custom bed is the same height as the vanilla bed, so it works fine in cut scenes. 
There are two options for all mods, 2k and 4k resolution.
For the best texture quality and crisp details use 4k which doubles the quality of the texture map.
If you can't run 4k or experience lag when doing so, use the 2k version. 
The model is still quite large, so if you run into lag issues either way there's not much I can do.

Disclaimer:
All screenshots were taken using the 4k versions.
COMPATIBILITY
Install either 2k or 4k version, not both.
Should be compatible will all mods, unless they edit the Orlesian rustic bed.
INSTALLATION
Install using Frosty Mod Manager. Make sure you are using the latest version, 1.0.5.9. It will not work with older versions.
DOWNLOAD at 
https://frostytoolsuite.com/
This mod is only possible with Frosty, no Daimod unfortunately.
In settings in game mesh quality needs to be set to Ultra.
For use of both Daimods and Frosty mods together please see this guide by AnaisAndStuff:
https://www.youtube.com/watch?v=sLi6sf1Xkek

Some DAI mods can also be installed directly with Frosty, but not all will work in my experience. Trial and error!
~
If you like the mods I create
please consider supporting me through my Patreon!
Thank you for using my mods! 
CaffeinePainter