When we originally made Collections publicly available, we knew that we still had a lot we wanted to improve on. Since then, we've been listening to your feedback and working hard on new features and improvements. Here are some of the changes that are going live this week.


Bug Reports Feature

We've built a new bug reporting feature from scratch, allowing Nexus Mods members to raise bugs on Collections for the Curator's attention.

To leave a bug report you must be logged in to a Nexus Mods account and have already downloaded the Collection. We also provide a useful template, encouraging you to include helpful information for the Curator. When a bug report is raised, the Curator will get a notification. 

Curators will be able to close bugs, marking them as 'Fixed', 'Not a Bug', or 'Won't Fix', as well as reopen them.  When a bug is closed, the Reporter will get a notification. 

Reporters and Curators will be able to discuss bug reports by using a comments feature, which we'll be actively improving over the coming weeks and months.






Collections Search

We have now added a search function so you can find a specific Collection or, one with your search term in the Collection summary or description.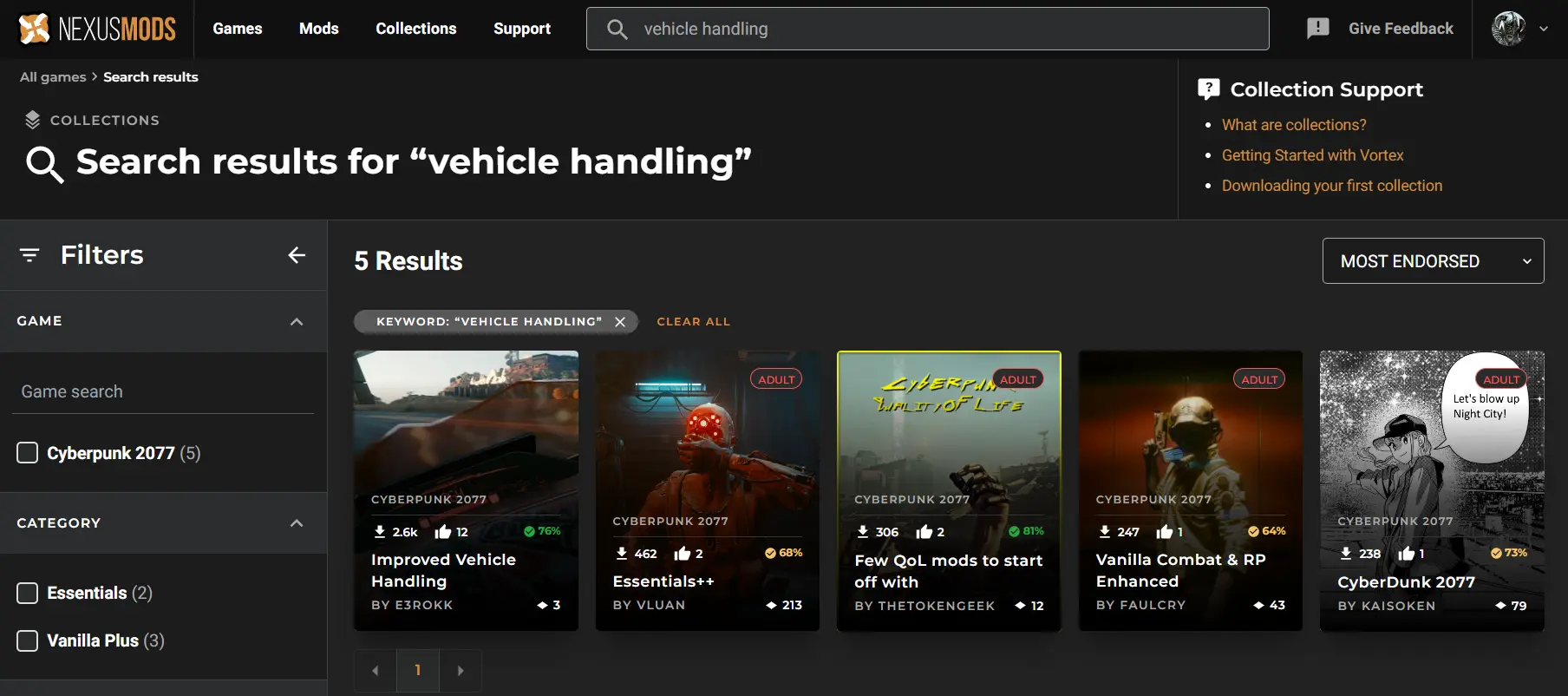 Collection Rating Changes

What was the problem?

Collection ratings were based on feedback for the latest revision. What this meant is that every time an update was released, a Collection's rating was reset and brought back to 0%. This didn't help anyone looking at a Collection with making a decision on whether to download it. Also, this wasn't fair for Curators who might have had great ratings previously.

What have we done?

To improve the situation, we've replaced the current rating system with two brand-new ratings:


All Time Total: This 'Overall' rating includes every feedback ever given.
Last 30 Days: This 'Recent' rating only includes feedback from the last 30 days.

When you view a list of Collections for a game, say Stardew Valley, the ratings you see on each Collection are now the 'All Time Total'. The filter and sort options on the page also use 'All Time Total'.

When you view an individual Collection, you'll be able to see the 'All Time Total' and 'Last 30 Days' ratings (more on this in the next section).


Collection Header Re-design

What was the problem?

When viewing a Collection there's a lot of information to digest and most of that is displayed right at the top of the page. With the introduction of the new 'All Time Total' and 'Last 30 Days' ratings, we had even more information to display within an already small space.

We also knew, from user feedback, that we had issues with text legibility against background images, important information like endorsements was getting lost, and some information was duplicated or unclear.

What have we done?

We've re-designed the Collection page, giving more space to important information like endorsements, download statistics, and ratings. Text is more legible as it no longer shares space with background or tile images, giving Curators more freedom in the media they choose.

Specific information about the revision you're viewing has moved down, into the 'About' tab, keeping the focus on Collection data.

The 'Endorse' button has also been updated with a new playful animation, which you can see in action below.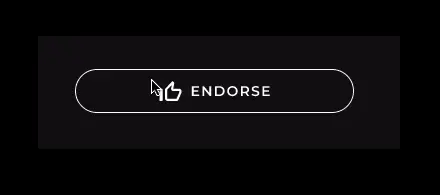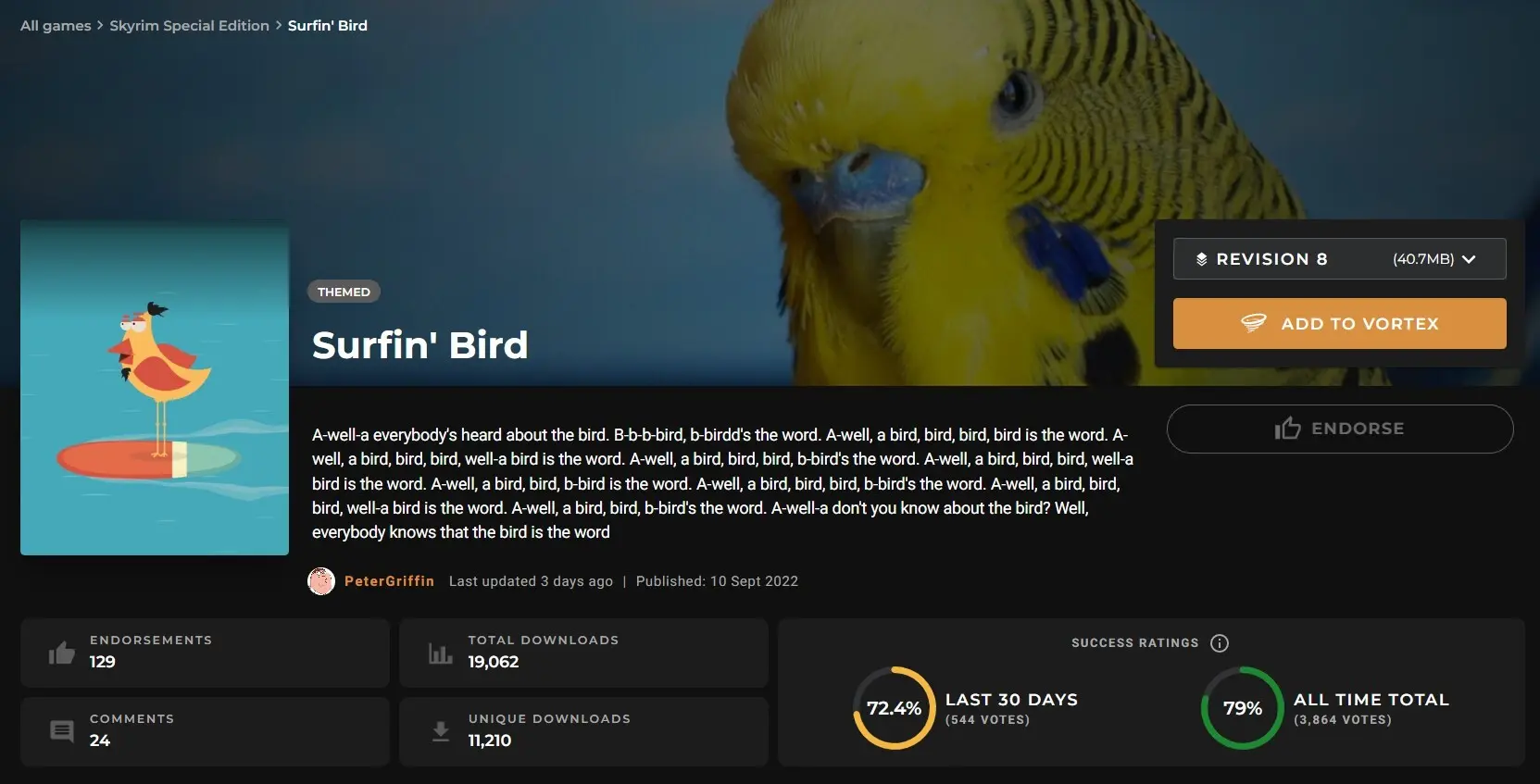 Flagging Collections as 'Adult'

What was the problem?

Originally, we decided that the best approach to flagging Collections as containing 'Adult' content was to be overly cautious. If any revision contained at least one 'Adult' mod, the Collection would be flagged as 'Adult'.

Based on user feedback and testing, we realised that this intended behaviour was having unforeseen consequences. Collections intended to be 'safe for work' were being flagged as 'Adult' based on changes beyond the Curator's control. For example, a Mod in a Collection getting flagged as 'Adult' after being included in a Collection.

What have we done?

We've changed the way that 'Adult' labels are applied to Collections, giving Curators more flexibility and control. Now if the latest revision of a Collection does not include any 'Adult' Mods, it will not be flagged as 'Adult'. Any older revisions which do include 'Adult' mods will be flagged as 'Adult'.

When selecting a revision of a Collection, we've also added 'Adult' labels so that you know which will and won't include that type of content.


Bundled Assets

What was the problem?

A Collection's bundled assets were grouped with the off-site requirements. This was causing confusion for some users, as bundled content is automatically downloaded and there's no need to go off-site to fetch it.

What have we done?

Introduced a new 'Bundled Assets' section to the Mods section on Collection pages, clearly separating it out from off-site requirements.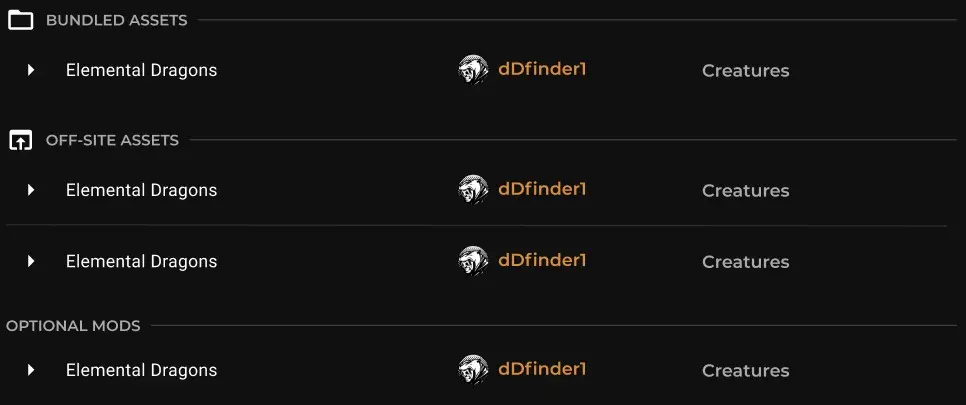 What's next?

We're not done yet, there's still plenty of left work to do on Collections. Here's a short summary of what we're working on next:


Filter Collections by Mod(s)
New Comments Feature
Curator Quality of Life Improvements


Let us know how we're doing using our new Feedback page.