Unless you've been living under a rock on the moon, you surely know that Starfield is coming.

What, you didn't know? All the planning charts have been on display in Alpha Centauri for the last 5 Earth years. You need to start taking an interest in local affairs...

Starfield is the gargantuan space action role-playing game from Bethesda. This will be their first new universe in 25 years, so hype levels have exceeded normal thresholds. As is our tradition with any new Bethesda release, we are getting extremely over-excited and child-like about this game here at Nexus Mods. So much so, we are launching a pre-release giveaway, with copies of the Starfield game and several other endorphin-boosting prizes up for grabs.

ROG Giveaway for Starfield

We have teamed up with the Republic of Gamers UK, offering you a stellar opportunity to win an array of awesome items including a graphics card, motherboard, peripherals and other swag. Our relationship with ROG goes back many thousands of years. We fought together in the first Elf War and joined forces in the Butlerian Uprising, protesting for our right to intelligent coffee machines. For those who haven't heard of them though, Republic of Gamers was founded by an elite team of ASUS engineers with the sole aim of creating the world's best gaming experiences.

This ROG gear will truly redshift your Starfield launch sequence to near-lightspeed. Picture yourself unwrapping a pristine, top-end GPU, the whiff of short-chain polymers heavy with the promise of performance. Imagine peeling away the stickers, only for them to tear, leaving the glue behind, which is almost impossible to remove. This could be yours.

In addition to the giveaway, if you purchase an eligible bundle from their site, they will give you a copy of Starfield for FREE. This opportunity, like Halley's Comet, is eccentric and visible to the naked eye at night.

The giveaway opens today and will run until 29th August, leaving plenty of time to raise your expectations of winning to unrealistic heights. There will be 8 main prizes:

Prize Details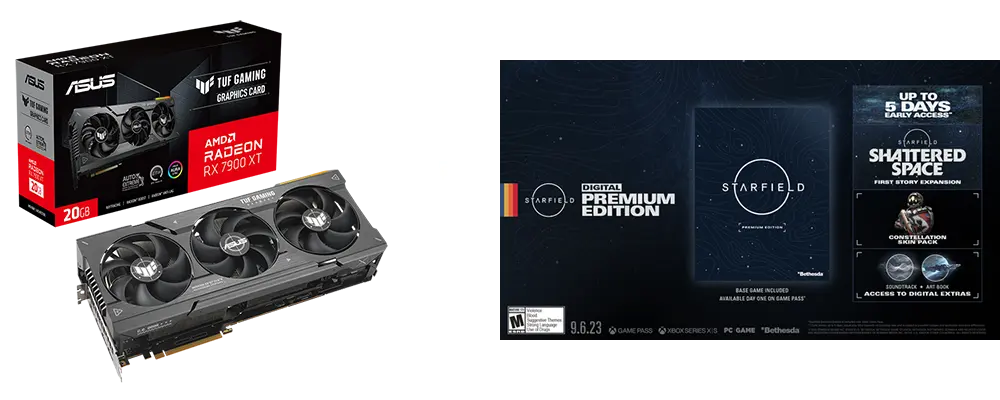 Prizes 4-8 - Swag Bags: ROG Merch: T-shirts, ROG Duck, Lanyards, notepads + Starfield Standard Game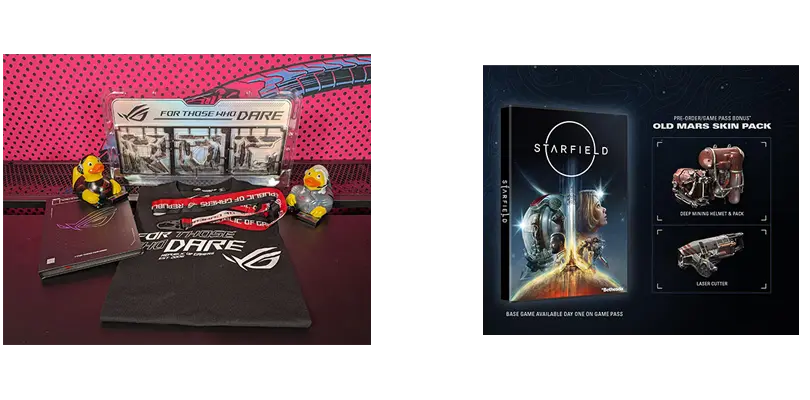 How To Enter

Complete these actions through the button below to enter the giveaway.


Join the Nexus Mods Discord server
Follow Nexus Mods on Twitter
Follow ROG UK on Twitter
Visit the ROG Game Bundle Page

If you already follow our Twitter or Discord server, you will still be able to enter.



ENTER NOW


Winner Selection

Users who have performed any of the above actions will be considered eligible for the prize draw. The winners will be chosen at random using Gleam (our competition tool), along with random.org.

The lucky winners will be contacted firstly by email, followed by a private message on the Nexus Mods website or Discord within 2 days of the event finishing (29th August). Terms and conditions are on the next page.
Please submit the email address associated with your Nexus Mods account if possible. Good luck, Captain!