File information
Created by
3nvy
About this mod
Improves your role-playing experience by allowing you to access unaccesable areas
Requirements

Permissions and credits

Changelogs
THIS MOD IS ONLY COMPATIBLE WITH CET v1.10 AND GAME VERSION 1.12
PLEASE UPDATE TO USE THE LATEST VERSION


Overview
It's really a shame that a lot of content gets locked behind unopenable doors after you have done a specific mission. There are so many beautiful interiors in this game, it's a shame that you can no longer access them. But fear not, with this mod you can now access these areas again :D
I really love to do role-playing on this game, so I did this in an immersive way. Just interact with a previously locked door to open it, or interact with a disabled lift panel to enable it.
Keep in mind, I'm spending almost all my time doing side quests and just rolling around, so I'm pretty behind the main story, which means there's probably a lot more locked content that I haven't mapped yet. There is a section on "Bugs" for location suggestions, so feel free to report a locked area and I'll do my best to map it :)
Also, as I'm unlocking areas as I go, some of these areas may be further restricted if you haven't done the specific missions for them first. Let me know if thats the case
Current List of Available Places (More To Come)
Install Instructions
Step 1) The mod requires you to have CyberEngineTweaks installed. You can find the last release at
https://github.com/yamashi/CyberEngineTweaks/releases

Step 2) Download mod and extract the contents to 
\Cyberpunk 2077\
  so the path should look like 
\Cyberpunk 2077\bin\x64\plugins\cyber_engine_tweaks\mods\Unlock NightCity\init.lua
  (Replace if prompted)
Step 3) Start the game
Use Instructions
Due to new changes to CET, hotkeys now need to be manually set by you. Open the console, go to the hotkeys section, and set your desired hotkeys.
To check if the mod is running, open the console and check for the following:
Main Systems
Sub Systems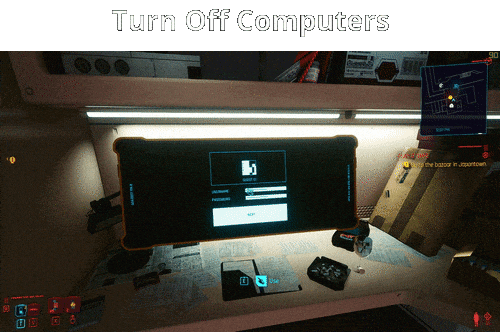 My Other Mods
Credits
I really just have to thank the entire modding community. None of this would have been possible w/t the tools, research and ideas of the awesome people constantly working to make it possible <3
A special thanks to:
Architect
and
neecapp
for the amazing work done over the lifts scripting
Expired
for the awesome item quality script
CP77 Modding Tools Discord
for all the tools and research done by modders there :)
Also, check Architect's own mod
CityHack
and give him some endorsements if you can :)