Hotfix Update 2023-09-22 20:48 GMT
A hotfix update has been released to temporarily disable some of the new features in this extension. Please see the pinned comment for more information.


Starfield mods have racked up an impressive 14 million downloads since the game launched 2 weeks ago and we're super excited to see all the mods being shared. Over 400,000 users have used Vortex to install and manage their mods since then and we've been working on an update based on the latest community feedback to add a few new features and squash some outstanding bugs. Here's a rundown of the latest changes and what's still to come! 


Added a workaround for the "My Games" Data folder

As some of you might already know, Starfield shakes up the traditional loading of mods by having an extra Data folder located in Documents\My Games\Starfield which is created the first time you open the game. The files provided at this location completely override those found in the Data folder where mods would traditionally be installed (Starfield\Data). This has caused quite a bit of confusion in the community with different mods providing instructions to install to the two different folders and a number of community workarounds - some that worked and some less so. 

With the latest version of the extension, Vortex users no longer need to worry about this. Upon managing Starfield, Vortex will now copy all the files already installed to Documents\My Games\Starfield\Data into the game Data directory, then create a junction that tricks the game into redirecting any files it would read to or write from the Documents folder to use the game folder instead. This neat trick means that your mods will always load correctly and as an added bonus this method works for both the Steam and Xbox Game Pass releases of the game.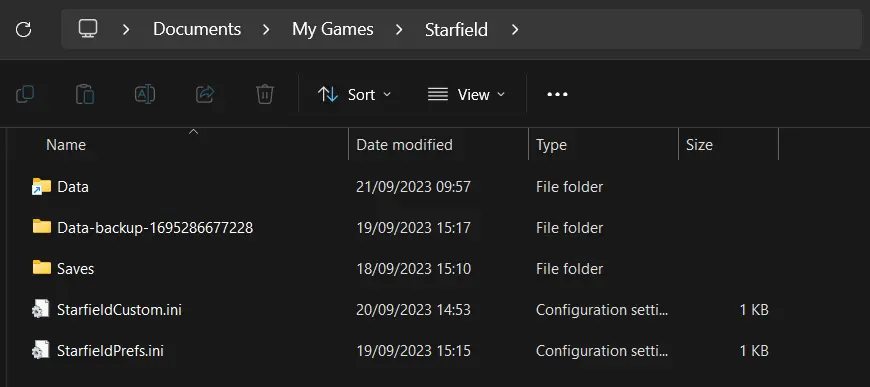 Create or update StarfieldCustom.ini

Similar to Fallout 4, Starfield requires certain INI tweaks to be set in order to properly load loose files (i.e. those not packed in BA2 archives). There are a lot of mods out there which provide instructions for users to add these tweaks to a StarfieldCustom.ini file in the Document\My Games\Starfield folder. 

Vortex now creates this file and will validate that the "bInvalidateOlderFiles" and "sResourceDataDirsFinal" settings are correct on each startup. If they are wrong, they will be corrected automatically (without changing any other settings you might've added manually). 

Additionally, Vortex will apply a tweak to re-route your Photo Mode captures to Data\Textures\Photos and there is now a button inside Vortex to quickly open this folder. 





Starfield Script Extender Compatibility Warning

As a good friend of mine once said "You can lead a horse to water but you can't make him read the sticky post". Starfield Script Extender and the various plugins created for it unfortunately do not work with the Xbox Game Pass version of Starfield (yet?) and while this is documented on the mod pages, it's quite easily overlooked. Vortex will now detect an attempt to install SFSE and show a confirmation ensuring that the user is aware this won't work with their version of the game.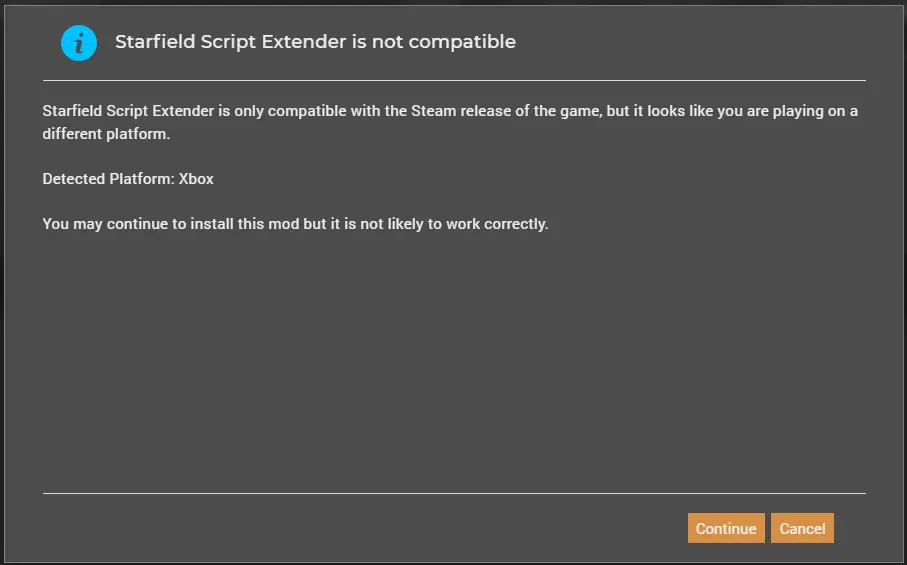 Bug fixes

Along with these new features, there's been a round of bug fixes to account for all the weird and wonderful ways mods are being packed when uploading them. If you've found a mod that won't install properly, please report it in this forum thread so we can take a look. There is also better support for installing tools like BethINI with Vortex. Deployment via Symlink has been re-enabled too as it appears to work with Starfield (but did not work for any previous Bethesda title). 


What's next?

That concludes the features for 0.4.0 but it's still early days for Starfield and we'll continue to update Vortex as the modding scene matures. As a sneak peek, we're currently looking at these bugs/features:


Load order support: Plugin mods have started to pop up, but we're not yet in a place where we feel confident adding support for plugin load order is the best choice. Until the tool creators in the community have done a little more decoding of the new formats or the Creation Kit releases (ETA 2024) we suggest you be very careful when using plugin mods as they may not have been created in a "safe" way. 
LOOT updates: LOOT got an update to v21 recently and is going to support Starfield. We will be investigating updating the LOOT integration for all TES/Fallout/Starfield games and working with the LOOT team to make use of the latest features and changes. 
FOMODs: We're aware that quite a few mod authors who have posted FOMODs have not provided correct installation paths - due to limitations/differences with other modding tools - resulting in Vortex sometimes deploying the result to the wrong folder. While the best solution is for the FOMODs themselves to be updated, we will be looking at making the integration in Vortex more flexible to allow us to auto-correct paths that look wrong.
Better fallback installations: If Vortex doesn't recognise a mod at all the files are currently deployed to the game folder, we are looking to improve mod detection and testing out deploying any unrecognised files to the data folder instead. 
Collection and Profile improvements: As a stretch goal, we also want to look at providing some additional features that will make it easier to play Starfield with profiles or export collections. 


Thank you to everyone who has provided constructive feedback so far and a special thanks to BOTLANNER on GitHub for their contribution to the project. 



The 0.4.0 version of the Starfield extension is available as an "over-the-air" update which will be downloaded the next time you start Vortex. Alternatively, you can download it here.