File information
Created by
NUGZ
About this mod
Skid steer with working bucket, WARNING!!! It may have some issues in multiplayer, additionally, the bucket is remote controlled... any time you have it spawned in the world, the bucket moves when you press Z, V, or Q, R. Since the remote is always in your hands, there is no way around that.
Sup Y'all. NUGZ Here, with another mod I think you all will like? 
I hope anyway...
I have lost steam for making mods these days, I apologize...
Anyway..
With that I give you. The NUGS SKID STEER!
This thing is awesome, the bucket on it works!!! You have to press Q and R to move the buckets, and Z and V to move the arms up and down.
(unfortunately, this was made using a QWERTY keyboard configuration. If you have a keyboard with those 4 letters on it, they should work but I have not had any chance to test it on any other language. Sorry about that!)
Additionally, this mod, when you place this vehicle, you immediately gain a remote controller for this that lives in your hands always. It is too small to see, but any time you press the keys to make it move, it will. No matter who you are in the game. This is a fun toy to play with, it does have working collision and animations for the bucket and arms. 
Anyway, hope you enjoy it with all it's little quirks.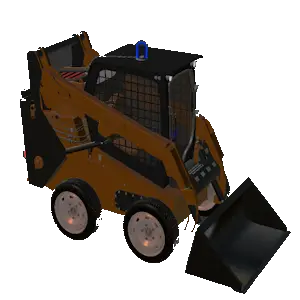 This is a NUGZ special, brought to you with the help of Hugo the Dwarf. Genuinely smart C# guy.
Oh yeah, this has custom code to execute with the mod, it is all included in the mod folder in the zip file so no worries.
This might break beyond alpha 21. I will have to look into it and make updates as necessary.
Thank you and enjoy!