img 3 loading...
img 4 loading...
img 5 loading...
img 6 loading...
img 7 loading...
img 8 loading...
img 9 loading...
img 10 loading...
img 11 loading...
img 12 loading...
img 13 loading...
img 14 loading...
img 15 loading...
img 16 loading...
img 17 loading...
img 18 loading...
img 19 loading...
img 20 loading...
img 21 loading...
img 22 loading...
img 23 loading...
img 24 loading...
img 25 loading...
img 26 loading...
img 27 loading...
img 28 loading...
img 29 loading...
img 30 loading...
img 31 loading...
Description
Last updated at 15:04, 6 May 2017 Uploaded at 17:41, 2 Nov 2016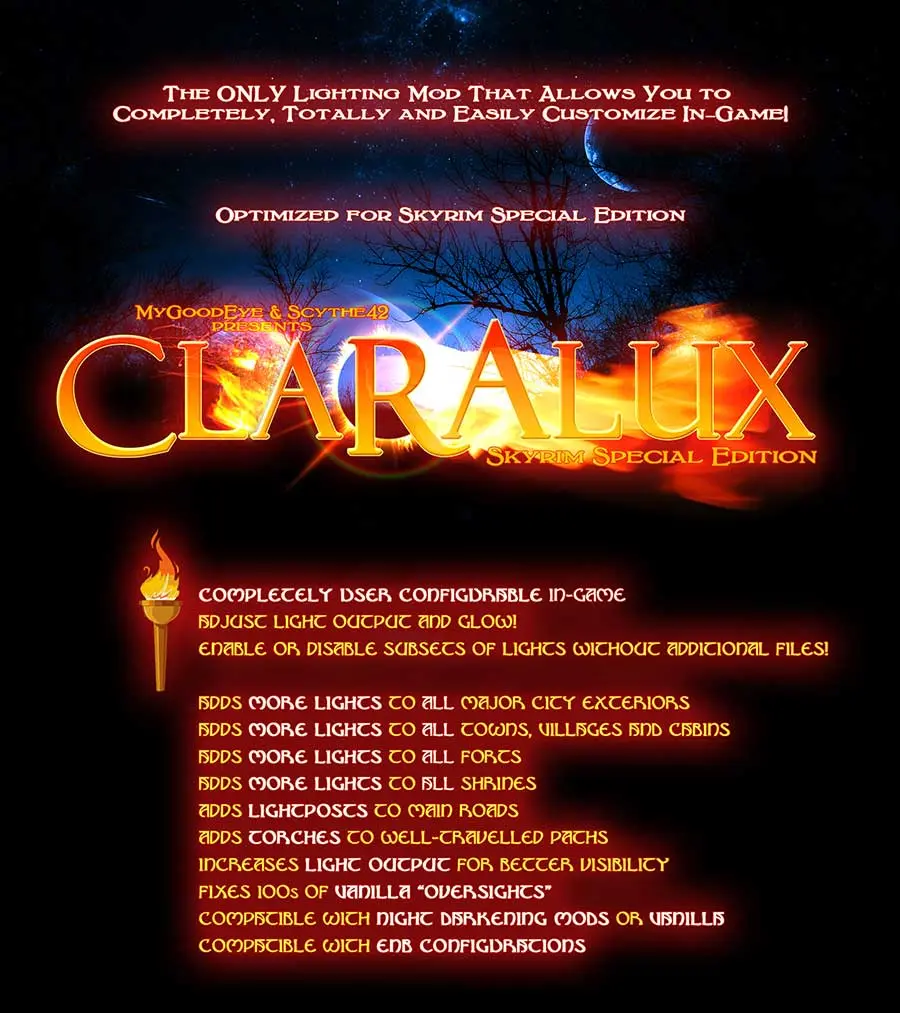 Forget everything you think you know about CLARALUX!
We've taken the original concept and rebuilt it from the ground up.
And we've returned with the ONLY MOD IN SKYRIM that will allow you to adapt the LIGHT LEVELS and LIGHT TEMPERATURES of ALL EXTERIOR LIGHTS to your taste IN-GAME!
We've added NEW FIXTURES to NEW AREAS!
We've altered some of the OLD FIXTURES that I really didn't like!
New in V1:
- Far superior code
- New LightSets and fixtures in DAWNGUARD and DRAGONBORN
- Ability to control LIGHT TEMPERATURES
We allow you to custom tailor your CLARALUX experience without need of additional ESPs muddying up your load-order!
CLARALUX SSE DOCUMENTATION LINK FOR EASY ACCESS!
Video updates for SSE COMING SOON.  However, the functions are similar so you can still get the point.

Yes, we are lacking behind with a video. If you are willing to make a nice showcase video let us know!
HOW DOES CLARALUX WORK?
Simple.
CLARALUX for SSE allows you to determine what LIGHT LEVELS and LIGHT TEMPERATURE best suit your tastes, your weather mod and your ENB configuration... all from within the game.
Watch the changes in REAL-TIME in the
CLARALUX TESTING FACILITY
CLARALUX adds hundreds of street posts, torches, hanging lanterns, magic lights, etc, etc, etc to help enhance the SKYRIM experience, notably while using mods that make nights darker. CLARALUX controls over 2500+ lights in total.
At all TOWNS, VILLAGES and CABINS (as appropriate) you'll find more LIGHT SOURCES.
In areas included with DRAGONBORN and DAWNGUARD you'll find more LIGHT SOURCES.
Many EXTERIOR lights are boosted in order to improve visibility from afar.
LIGHTPOSTS are added on all major roads in order to aid nighttime travel and YOU can control how many appear.
On well-travelled PATHS you will find TORCHES.
At most of the FORTS you will find an increase in torches and the inclusion of large bonfires to dissuade attackers from taking advantage of nightfall.
At major walled cities you will find more LIGHTING DESIGN and the addition of more lighting.
You might come across a CLARALUX engineer who's job it is to build and maintain the lights.
And the best part? ALL of the features are optional!

YOU CAN CONTROL ALL ASPECTS OF CLARALUX VIA THE CLARALUX TESTING FACILITY
INCREASE YOUR LIGHT VIEWING DISTANCE
The impact of this mod will be greatly enhanced if you increase your LIGHT and SPECULAR distances to the max. 
For tweaking your INIs we highly recommend using
BETHINI
to set your LIGHT VIEW DISTANCES to as high as you can manage without performance impact like below:
CLARALUX already comes with an INI files out of the box that sets the Light Fade Distance to the maximum for you. If you want to make personal tweaks just delete CLARALUX SSE.ini in your data folder and use BETHINI to adjust your settings.

UPGRADING FROM PREVIOUS VERSIONS
Make sure you save your game in an interior cell before upgrading, so no CLARALUX lights are active. 
If you do not do this you might see duplicate lights as existing ones could not be upgraded or other oddities may show.

COMPATIBILITY, PATCHES and LOAD ORDER

CLARALUX is compatible with ALL WEATHER MODS, ALL ENBs, ALL RESHADES. It does not touch any weather or screen space modifier.
We have provided PATCHES for popular mods in the FILES section.
Current information on COMPATIBILITY, PATCHES and LOAD ORDER is available here.
WHAT DOES "CLARALUX" MEAN?
Loosely translated (via Google...haha) it means "BRIGHT LIGHT" or "BEAUTIFUL LIGHT". Seemed appropriate and has a nice ring to it. 
COMMENTS, BUG REPORTS and ENDORSEMENTS:
Y'know, it's a bit of a work-in-progress. If you have comments, high praise, bug reports, etc please leave them in the COMMENTS section. We will be reading them regularly.
If you like it, leave an endorsement, endorsements is how we measure our work.
Otherwise, we hope you enjoy!
- David (MyGoodEye) and Scythe42 (aka Twenty)

CREDITS AND PERMISSIONS: