Description
Last updated at 2:50, 27 Jan 2014 Uploaded at 16:56, 11 Feb 2012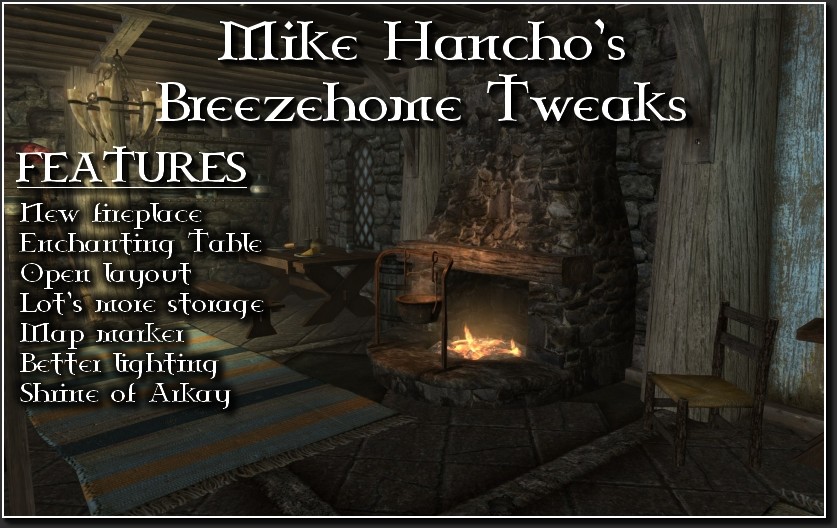 MH Breezehome Tweaks - Hearthfire Edition
Version 1
Mike Hancho's Breezehome Tweaks at long last has a Hearthfire compatible version! Includes the same great features as my original version and a few new ones!
If you're like me, you're never completely satisfied with the vanilla housing options. While I generally like vanilla Breezehome a lot, it still had some minor issues I was unhappy with. This mod fixes those issues.
This is not a complete overhaul of the home, but it tweaks a few things to make it more functional and to give it a more "open" flow. I tried to stay as close to the vanilla feel but still change the things I felt it needed. As with any mod, you may love it, you may not. These tweaks fit my personal preferences, and may not reflect your tastes.
FEATURES
Removes the fire pit and cooking pot in the living room and adds a proper fireplace and cooking pot by the Dining Room.
Adds lots of new storage options.
Tweaks the lighting to get rid of that horrendous shadow acne and striping.
Upgrades the beds to the "Noble" style.
Adds a convenient map marker by the front door.
Replaces the Dining Table with a smaller version to give more room.
Adds an Enchanting Station upstairs.
Removed a couple of walls and doors to open the place up a lot.
Reworked the navmesh to accommodate new items.
INSTALLATION
As with any mod, make a NEW hard save before installing. Do not blame for your failure to do so if something goes wrong!!! After making a save, install with the Nexus Mod manager or download manually, extract the archive and put the plugin file in your Data folder.
IMPORTANT INFORMATION AFTER INSTALLING
If you have not entered Breezehome in your current game, everything should be normal. But if you have entered the house prior to installing this mod, the first time you go back inside you'll probably find some clutter lying around that was displaced by some of the new items this mod adds. You will also find any weapons you placed on the weapon rack over the bed hanging in mid-air. Simply pick up the clutter and grab the weapons and place them back on the plaque in its new location.
If you have been using the home prior to installing this mod, as I mention above, I highly suggest you at least make a new hard save before installing.
CONFLICTS & BUGS
Fully compatible with the Dovakhiin Hideout mod but should not be used with any other Breezehome mod. Please let me know of other conflicts.
As far as I can tell so far, the changes have not affected Lydia in any way, but if you find anything buggy, please let me know.
MH