Disa The Ambereye
Skyrim » Companions
Added: 13/08/2017 - 02:45AM
Updated: 15/08/2017 - 07:10PM
Description
Last updated at 19:10, 15 Aug 2017 Uploaded at 2:45, 13 Aug 2017
If You like a strong nord woman with a scent of arcaic mystery You should meet Disa...She is a smith in Raven Rock.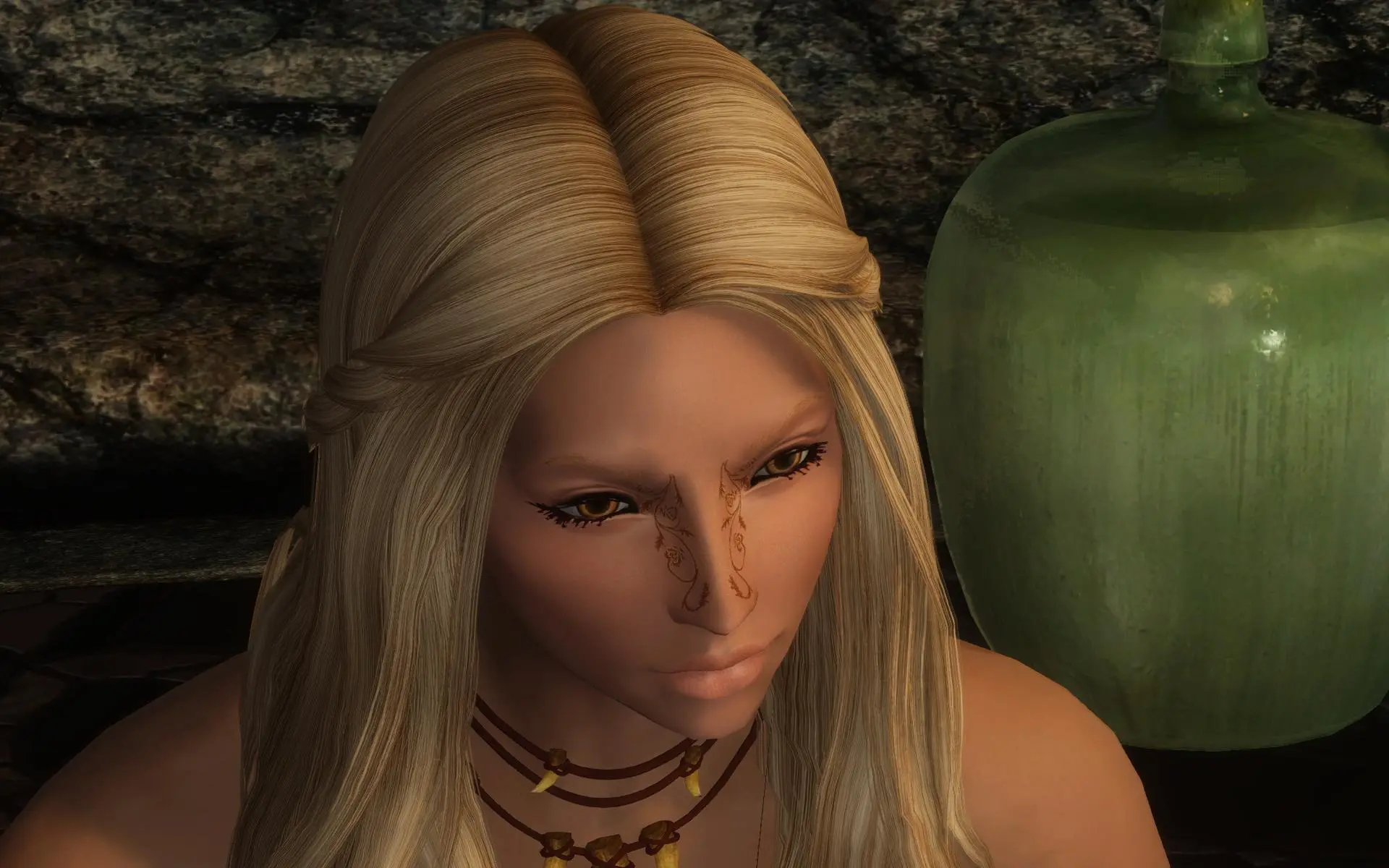 Disa levels with You and uses in battle both weapons and magic. She has a custom CBBE-body, but she is just fine with vanilla and many other outfits.
Thanks/Used Mods/CreditsFace/Head/Skin/Eyebrows
/Eyes

Smile in HD by zzjay and normal map by Urshi
Character Mod Resource Pack by Nuska
RANs HeadMesh Variants by RAN46
CBBE skin texture V2 V3 plus Thepal and UNP compatible by navetsea
Eye Normal Map Fix
by Mr Dave
Improved EyeReflections and Cube Map
by
fadingsignal
Body

Caliente's Beautiful Bodies Edition -CBBE-
by
Ousnius and Caliente

BodySlide and Outfit Studio
by
Ousnius andCaliente
Caliente's Texture Blender by Caliente CBBE skin texture V2 V3 plus Thepal and UNP compatible by navetsea

Hair
Apachiiskyhair by Apachii

Outfits/armour/jewelry

Caliente's Vanilla Outfits for CBBE by Caliente and Ousnius

Ashara Princes of the Woods for UNP and male
by
SydneyB

Ashara Princes of the Woods CBBE Conversion With Extra Pieces and Bodyslide
by
VRDaphni VRApollo
Draugr Armor Partsby zzjay
Adventurer's Outfit UNP-family compatibleby gooboo
Barbaric Boob Armor for UNP CBBE BBP and Bouncelessby RefurbMadness

Clutter
Modder's Resource Pack - The Witcher Extension by Oaristys and CD PROJEKT

The Witcher 3 Mega Resource Pack
by
LorSakyamuni and CD PROJEKT RED
Lolicept Resources by LOLICEPT
Jokerine's Misc Resources by Jokerine
Elianora's Extra Resources by Elianora


Special thanks: 4tunit1for the absolutely fabulous screenshots of Disa
Unknown medieval and ancient church and castle painters and antique artists who's work I have used in some textures
Bethesda for Skyrim
This community for all its great features

If someone feels that his/her rights have been violated by not giving proper credit or asking for permissions etc.so please contact me. I would never do such a things with purpose. This community and great works of other modders form a great fountain of inspiration for me.PermissionsAsk me. This mod is nexus exclusive, and its assets can't be used in paid mods.