Description
Last updated at 17:51, 26 May 2017 Uploaded at 1:31, 16 May 2017
A simple mod to boost enemy dragons' health and meelee/breath attacks.
Up to 8 times the health
Up to 8 times the damage (meelee and breath)
Script-free
Customizable during installation (can safely reinstall with different options at any time)
Simply stronger - NOT an overhaul
Compatible with DDC, Splendor, and other mods that add dragons.
Health options: x1, x2, x4, or x8
Damage options: x1, x2, x4, or x8
If you're looking for tougher dragon battles without the complex and widespread changes added by other dragon difficulty mods, you've come to the right place.
Otherwise just stick with Deadly Dragons ;)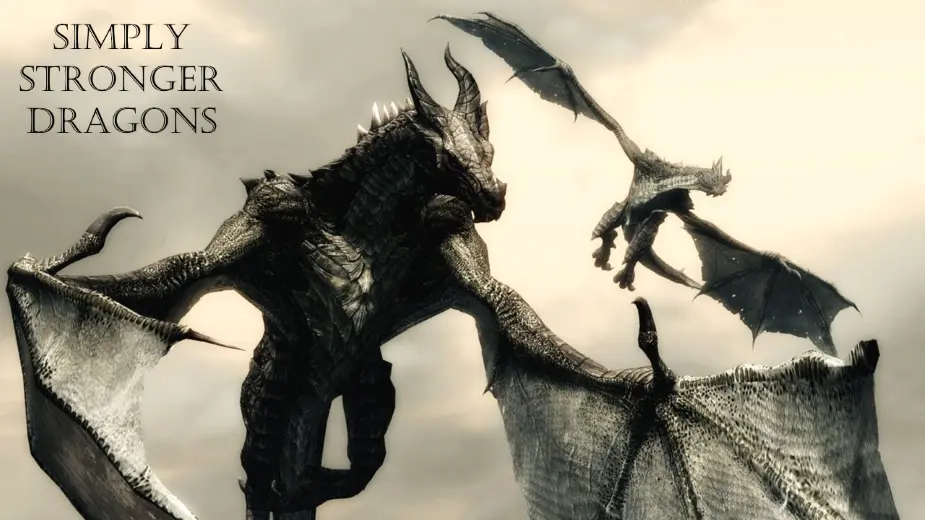 Compatibility
This mod edits the following records:
-crDragonResistNPCs perk
-DragonRace race
-crDragonUnarmedXX spells
Other mods that also edit these will require an xEdit Merge Patch.
Fully compatible with Diverse Dragons Collection (any version) and Splendor with no patch!
If you already use Deadly Dragons or similar and are happy with that, then there's no reason to download this mod. This is for people who want something smaller/simpler/script-free/compatible/vanilla-like/SKSE-free.
If you combine this with other dragon difficulty mods, it's up to you to figure out what will happen.
Installation
NMM/MO/WB: Just install, choosing your preferred options. Then enable the plugin.
Manual: Use the folder names to find the version you want and copy that .esp file into Data. Then enable the plugin.
Requires Dawnguard & Dragonborn DLCs.
FAQs
My Mods: