Description
Last updated at 14:53, 18 May 2017 Uploaded at 3:02, 13 May 2017
Chiasa Silverstorm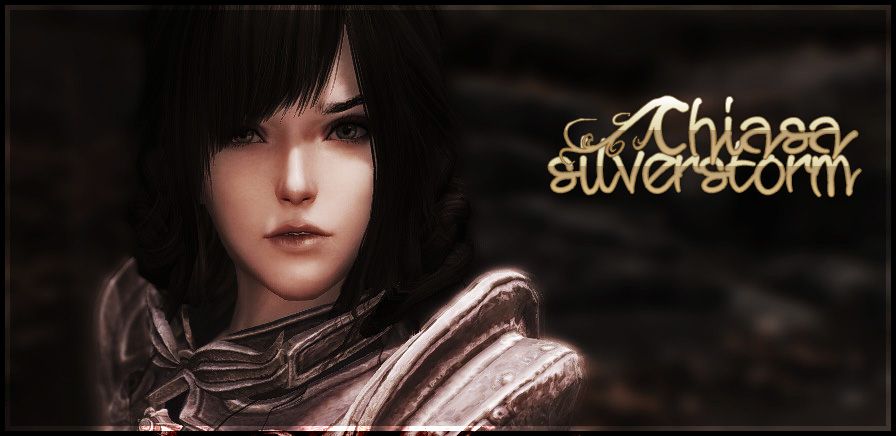 "Lilithya saved my life and shared her name with me..."
OMG, thank you everyone for making Chiasa in the hotfiles.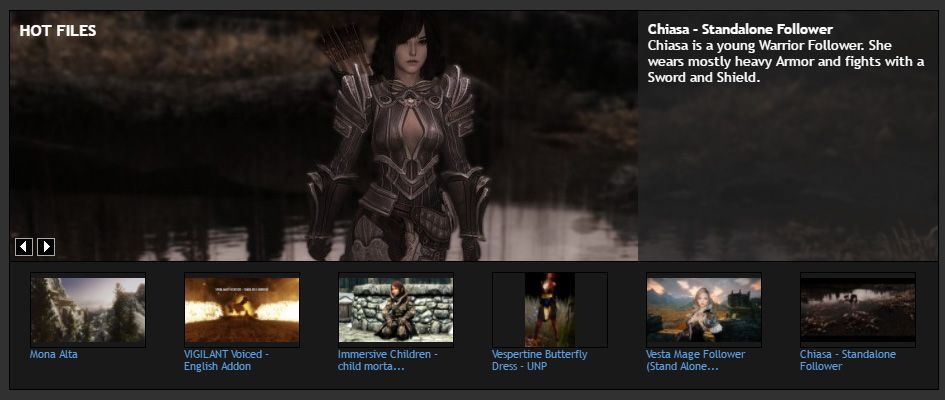 Background:
Chiasa is a young girl from Riften, and former member of the Thieves Guild. Chiasa got caught in Windhelm, robbing a home. 
Only because of Lilithya Silverstorm, she was spared of hard consequences. Chiasa cut her ties to the Guild and went back to Windhelm, thanking the woman who helped her. Chiasa became Lilithyas bodyguard, as thanks for her devotion, Lilithya gave her the name Silverstorm too. 
Chiasa now roams Skyrim, searching for a cure for Lilithyas vampirism. 
Combat:
Chiasa wears mostly Heavy Armor, but she can use Light Armor too. She usually fights with a Sword and Shield, but is good at Two-Handed battle too. 
Spells:
Ebonyflesh, Healing
Perks:
Fighting Stance, Bladesman, Hack and Slash, Savage Strike, Matching Set, Magic Resistance, Regeneration, Respite, Recorvery, Barbarian, Shield Wall, Unhindered 
Mainstats:
One-Handed, Heavy Armor, Light Armor, Block
Misc:
Chiasa can be found in Riften, mostly next to the Blacksmith. She levels with the Player till LVL 150. Chiasa is marriageable.
Showcase of Chiasa:
Credits:
Eyes: 
The Eyes of Beauty
 by 
Gabriel Mailhot as LogRaam
Skin: 
PureSkinTexture
 by 
Anini n Regenbot03
Brows: 
Brows
 by 
Hvergelmir
The Ningheim Race
 by 
Seren4XX HelloSanta Urshi and co
Hair: SG Hair 268 by Hello Santa
RaceMenu
 by 
Expired
Bodytype: 
DIMONIZED UNP female body
 by 
dimon99
Armor: 
TERA Armors Collection for Skyrim - Male and UNP female
 by 
asianboy345
Weapon and Shield: 
TERA Weapons Collection for Skyrim
 by 
Iromizu
Make A Follower Workshop MAFKit 2017
 by 
Ashes2Asherz
Other Silverstorm Followers:
Lilithya Silverstorm
Mynitha Silverstorm