img 3 loading...
img 4 loading...
img 5 loading...
img 6 loading...
img 7 loading...
img 8 loading...
img 9 loading...
img 10 loading...
img 11 loading...
img 12 loading...
img 13 loading...
img 14 loading...
img 15 loading...
img 16 loading...
img 17 loading...
img 18 loading...
img 19 loading...
img 20 loading...
img 21 loading...
img 22 loading...
img 23 loading...
img 24 loading...
img 25 loading...
img 26 loading...
Description
Last updated at 19:54, 19 Mar 2017 Uploaded at 3:24, 28 Aug 2016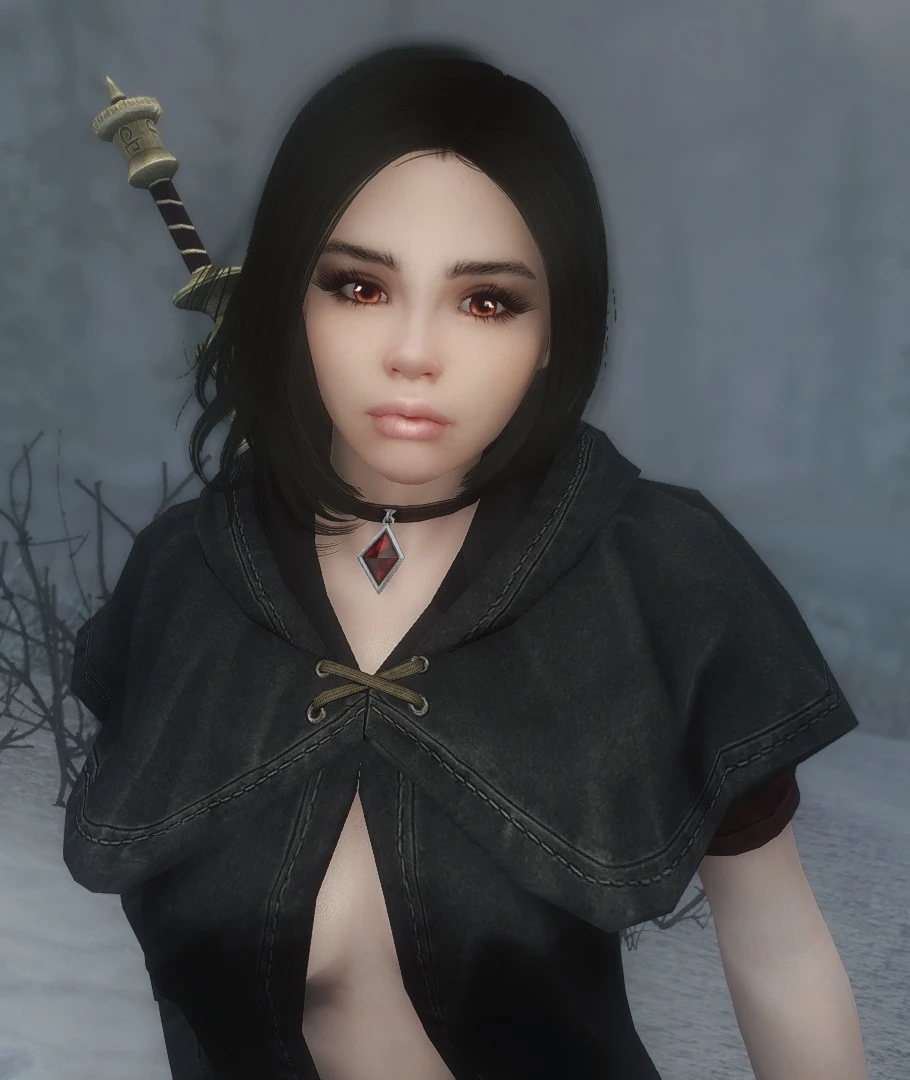 This is a Serana NPC replacer, so obviously you will need the Dawnguard DLC. I've created her with her own unique, custom-layered skin textures and body shape. She has high-poly body meshes, including an HD CITRUS head, which has been hand sculpted and polished in RM. There are two body types to choose from: UNP and CBBE - both with HDT body physics, as well as two non-HDT versions. 
Her custom outfit for the HDT version is the Linkle Robes, black/red version with added HDT.
Optional HDT hair
In Serana's inventory, you will find the HDT version of her hair, which she will equip automatically when she joins you.
A common issue with HDT hair for followers is the (occasional) invisible glitch when travelling between cells. This can be fixed in-game by going into console mode, click on the character and disable /enable. If this is too much of an issue, simply remove the wig from her inventory. You have the option. Or you could try 
Hdt Invisibility Fix beta by towawot
Amazing Follower Tweaks (AFT) vampire eye switch bug
If you use AFT, you may experience a bug with the AFT scripts that will cause Serana's eye textures to revert to the standard 'eyevampire_01' which you have installed, on entering a new load cell. To counter this I have included a AFT patch which will replace 'eyevampire_01' with this mod's vampire eye texture. I'd recommend using a mod manager to install, so that it can be easily removed and your original texture restored. Or just make a save somewhere and install manually. To install manually, locate folder: 'Data\Textures\Actors\Character\Eyes'.
All files have been cleaned with TES5Edit[Installing/Uninstalling]
Download Manager advised. To avoid any mesh/texture issues with Serana, make sure you have removed ALL files left over from any previous Serana mods you may have used and make a 'clean' save before installing this mod.
Current Version: 2.0 (see change log) 
Upgrading from version 1.4 to 2.0
- Make a back up save.
- If you are using AFT or any other mod that manages Serana's outfit, make sure you select the option to "Stop outfit management".
- Then dismiss Serana and leave the cell. 
- Save your game and quit.
- Uninstall v1.3 completely and install the newer v1.4
- If there's any issues with the new outfit not appearing in the inventory, use 
AddItemMenu - Ultimate Mod Explorer by towawot
 or similar mod to locate   the plugin items.
Credits

BodySlide and Outfit Studio by Ousnius and Caliente
body scars for racemenu by Naxmaardur and Ionil
BVFE - Better Vampire Fangs and Eyes by Aipex8
Caliente's Beautiful Bodies Edition -CBBE- by Ousnius and Caliente
CITRUS Heads (HD Meshes) by Blabba
Demoniac- High Quality Glossy Female Body Texture 8K 4K 2K by Regenbot03
DIMONIZED UNP female body by dimon99
Fair Skin Complexion by HHaleyy
Freckle Mania by tetrodoxin
High Poly Feet and Hands for UNP Bodies by Halo
KS Hairdos - HDT Physics by Stealthic and Kalilies
KS Hairdos - Renewal by Kalilies Stealthic Khaos and Shocky
KS Jewelry by Stealthic and Kalilies
Lind's Human Eyes by Lind001 - LindsWorkshop
Linkle Outfit for Skyrim by Gimora
Linkle Outfit conversion by NINI
NPC Nif Merge by Turulo
RaceMenu by Expired
SG Female Eyebrows by Hello Santa
The Coenaculi - RaceMenu Plugin for Tattoos by Desufire
My Other Mods
I use multiple mods to create my followers, so occasionally I may overlook someone when listing credits. If you think I've used your mod and missed you off the credits, please let me know and I will add you.
Permissions

You may not upload this mod to any other site without my consent. You may, however, link back to this page from another site. If you wish to use any of the components from this mod for your own mod, you must credit the mod authors (as listed). You may not use the FaceGenData, diffuse textures or body meshes from this character for your own character without my permission, if you then intend to upload it somewhere. The diffuse body textures have been edited by me, so if you want to use them for your own mod, you will need to ask my permission first.