Universe ENB
Skyrim » ENB Preset
Added: 07/06/2015 - 04:25AM
Updated: 13/05/2017 - 03:53PM
Description
Last updated at 15:53, 13 May 2017 Uploaded at 4:25, 7 Jun 2015
News
13/May/2017 Release the Universe ENB-VI. To my blog
RADLAND
.
Installation
1)Set Game
Open SkyrimPrefs.ini 
. bTreesReceiveShadows=1 
. bDrawLandShadows=1 
. bFloatPointRenderTarget=1
Start up Skyrim Lancher,open Skyrim options.
Turn off antialiasing and anisotropic filtering.
2)Open Main files
Install u_enb_weather.zip in NMM or Mod Organizer, Enable u_enb_weather.esp (If there is DLC or Legandary Edition, Enable "u_enb_weather_dlc1.esp" and "u_enb_weather_dlc3.esp") 
Copy enbseries folder,enblocal.ini and enbseries.ini  Peast to Skyrim install folder.(Steam/SteamApps/common/Skyrim)
  *Attention,to make them apply this plug-in right. 
   one,Stand by for 24 hours indoors.   
   or You make data of Clean save, and install.   
   or After installing, it start new game.
! Sorry, There is a one correction !
Actually, " u_enb_weather_dlc2.esp " is " DLC3 Dragonborn "
10/Jun, I made modifications by update. ( " u_enb_weather_dlc3 " )
3)Download
ENBseries
Get to enbseries_skyrim_v0305_zip ( or latest version. )  
Open the WrapperVersion folder and copy d3d9.dll and enbhost.exe  
Paste d3d9.dll and enbhost.exe to your Skyrim install folder.(Steam/SteamApps/common/Skyrim)
4)ENB patch
Download
PARTICLE PATCH ALL-IN-ONE
and install PARTICLE PATCH ALL-IN-ONE in NMM etc..
Option files  
performance.ini and quality.ini. enbeffect.fx.ini for use TV and Notebook PC. Overwrite to Main files.
About u_enb_weather.esp
There is no compatibility weather mods. ( Climates Of Tamriel and Pure Weather etc.)
Texture of rain and cloud is not included, Please use retexture mod.
For High visual
SkyrimPerfs.ini --- Opethfeldt's .ini from
Opethfeldt ENB option file
.
water ---
water Vanilla variations
 and
Pure Waters - Waterfalls
Tree   ---
Skyrim Flora Overhaul
or
Ultimate Lush Overhaul
Grass  ---
Unbelievable Grass Two
Rain   ---
More Rain
Thunder -
Lightning during Thunder Storm

Known issues (既知の問題)
Issues of the Enhanced ENB Night eye system, when riding a carriage, and when visiting some parts of the location, a phenomenon just like whether a whiteout was done occurs.
It will be like this image. (This location is Bleak falls borrow.)
 *こちらのブログでは日本語での解説もあります。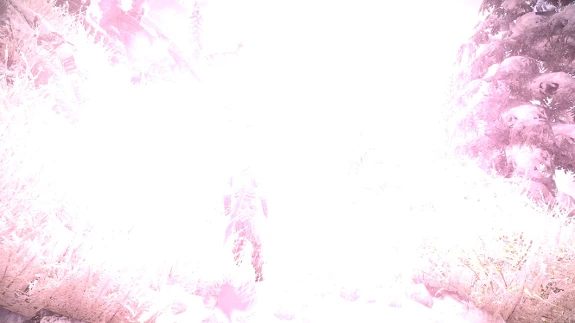 Please be turned off if you dont like. Method please refer to the image of the page top.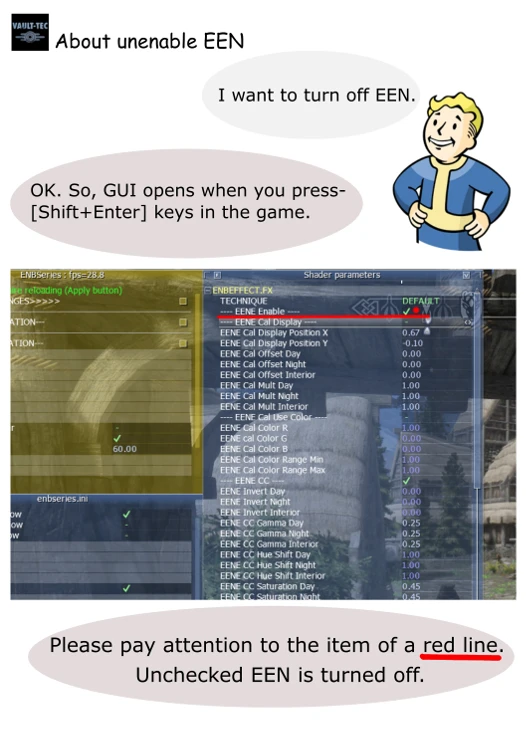 Credits
ENBseries by Boris Vorontsov :
ENBseries
DoF,enbeffectprepass.fx file by Matso :
Skyrim Visual Immersion
effect.fx file by ZeroKing :
Post-Process Effect Addon for ENB
Night eye system by scegielski :
Enhanced ENB Night eye
Night eye config by devikyn
Opinion that served as a reference by BlueGunk
Moving image by AERYS THE MAD DOVAHKING
And Thanks for users!!