Description
Last updated at 14:26, 9 Jan 2014 Uploaded at 19:34, 6 Dec 2013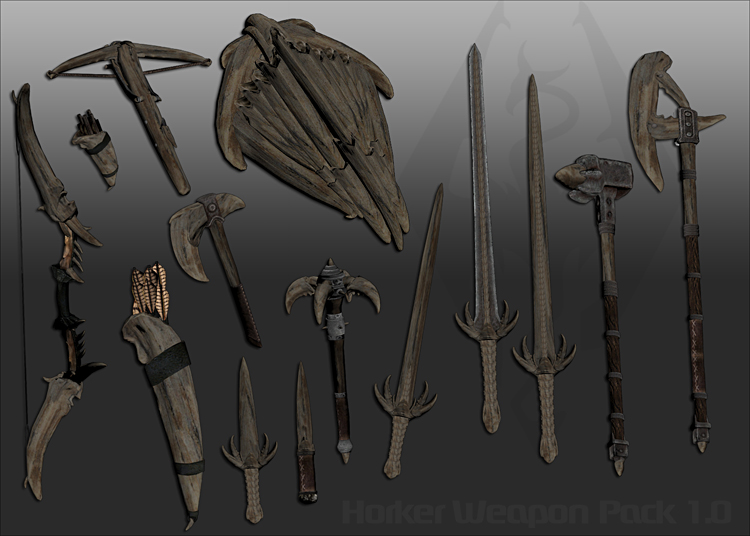 Adds new Horker weapons and a shield to the game, craftable at forge (misc), leveled list.
Main Mod:
Regular Edition = without Crossbow, no requirements
Dawnguard Edition = crossbow included, DG DLC required
Details:Main Mod:
Adds 2 variations to the forge (both category: misc), variation I dmg based on IRON weapons and II based on DAEDRIC. Bandits/Forsworn use variation I.
Optional ESP File:
Contains several optional .esp files, one variation craftable at forge (category: misc). Damage values based on STEEL, DWARVEN, ORCISH, ELVEN, GLASS, EBONY or DAEDRIC weapons, pick the .esp you prefer. Bandits/Forsworn use an own version (Battererd Horker Weapons based on IRON dmg values)
Installation:
Install Main Mod first, download optional file, open archive, open folder of the desired dmg category and unpack Ghosu-Horker Weapon Pack.esp to ...|Skyrim|data|... to replace the original .esp. YOU HAVE TO UNPACK/REPLACE THE .ESP FILE ONLY, NOT THE WHOLE FOLDER.
Atm there are only optional .esp files for Dawnguard Edition, Regular Edition might follow...
Notes:
All weapons are made of vanilla weapon parts, clutter items and textures, so it works with default low resolution vanilla textures as well.
BUT i would
HIGHLY (!!!) recommend
to use HD textures (mod or official 2k pack) to improve texture quality.
I'm using:
Weapon Textures:
http://www.nexusmods.com/skyrim/mods/24909
Horker Tusk Texture:
http://skyrim.nexusmods.com/mods/47956
This is a little fun project, like my Helmet Mod - not focused on high quality textures since all items are made of original items to make them feel vanilla. Check out my Ghosu - Weapon Pack for "better" stuff made from scratch.

Unpack the archive content to ...Skyrim|data|
Folder structure should be:
...Skyrim|data|meshes|weapons|Ghosu - Horker| NIF FILES
...Skyrim|data|textures|weapons|Ghosu - Horker| DDS FILES
...Skyrim|data| Ghosu - Horker Weapon Pack.ESP
To uninstall simply remove these files.

Q: SKYRE?
A: See comment section sticky.
Why does the Crossbow Edition require DG?
A: Because crossbow mechanics require DG...
Have fun and happy holidays!
Ghosu
Looking for new weapons?
Check out my Weapon Pack featuring 18 weapons in 32 variations and a shield.

LINK:
http://skyrim.nexusmods.com/mods/28545//?
Looking for new helmets, a Bone Shield or new staffs?
Check out my Helmet Mod featuring over a dozen new helmets and more:

LINK:
http://skyrim.nexusmods.com/mods/43293
... and my other mod featuring muskets, blunderbuss and even a grenade launcher:

LINK:
http://skyrim.nexusmods.com/mods/26653/?