Description
Last updated at 5:50, 24 Nov 2013 Uploaded at 8:12, 23 Oct 2013
RIFTEN HOUSE - A Honeyside Remodel v1.3
A Mod by PCGirl Updated November23, 2013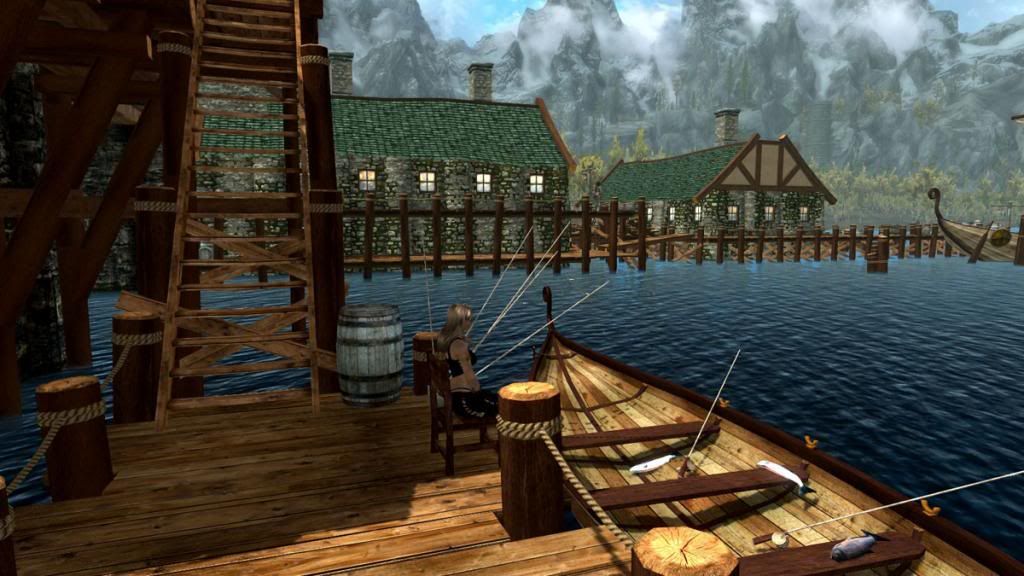 IMPORTANT STUFF TO NOTE: This is the first remodel of the original Honeyside with Hearthfire and TMPhoenix Multiple Adoptions compatibility. You must have Hearthfire installed for the house to work properly as there are criteria and items from that DLC used in my remodel. This is the second house mod in the series of vanilla houses. If you are using TM Phoenix's mod make sure it is loaded after my house mod so that the components of his mod will pick up the links in my remodel. However, if you are not using TM Phoenix's Multiple Adoption mod you will not be able to move your children or your spouse into this home, only the player will be able to occupy the house.
SECONDLY: This house is not 100% lore friendly, so move on if that is what you expect from this remodel. I will not swap out furniture or other items that people do not like, nor will I make major changes to the room structures or décor. That is just the way it is, so take it or leave it. A lot of work went into this mod, as with any mod, and originally was made for my own use. I did not intend to release this, but TMPhoenix has done such a fantastic job with the Multiple Adoptions Mod, that I decided to release it so that other people can still use the vanilla homes in conjunction with his mod. I do intend to release all 5 vanilla homes re-modelled to work with Hearthfire and
TMPhoenix's Adoption mod.
The home is complete with the ability to house your housecarl, spouse, and 6 children. There is also room for 1 other follower. The main area of Honeyside has not been changed, however, the basement level has been expanded to run underneath the garden area. A new followers room has been added in the house for 4 followers. If you are not using TM Phoenix's Multiple Adoption Mod, I strongly reiterate that you will not be able to move your children or spouse into this home, only yourself.
There are many storage areas in the home. Mannequins, weapon storage, crafting areas, treasure storage, bookshelves, and many other little perks throughout the house. Explore and discover all the special areas the house has to offer. Outside the porch is equipped with full smithing abilities, plantable containers, and a few other little perks.
The kitchen offers full storage options, crafting oven, butter churn and many other things that the homeowner considers conveniences.
I was given the honor of being featured on YouTube Daily Skyrim Mod Shout Outs. You can catch it here or through the video link on the mod page.
VideoFeaturedonYoutube
IT IS IMPORTANT TO NOTE THAT YOU SHOULD NOT PURCHASE THE PORCH UPGRADE FROM THE STEWARD AS SOME OF THE ITEMS FROM THE UPGRADE WILL OVER-RIDE THIS MOD
. I have tried and tried to get these items to not appear in game, and the only way I have been successful is to not purchase the porch upgrade. However, if you have already purchased the porch upgrade, and find that some items are still appearing you can get rid of them one of two ways: either, put your cursor on them and open the console and disable them, or you can mark the items that you want to get rid of by marking them for delete. Hover the cursor on them, open the console and type in "MarkForDelete", save, reload the save and they will have gone from the game. Make sure you have a back up save in case you accidentally delete the wrong things. This does work, but you have to be careful of what you are deleting.
INSTALLATION NOTES: Personally, I found it easier to install this mod from the very outset, in other words before purchasing it from the Steward and before becoming Thane. You can then take Iona to the new home immediately without any hiccups. You can still purchase all the usual upgrades from the Steward, except the porch of course, in case you wish to uninstall my mod and revert back to the vanilla version or simply to try another house mod. The porch upgrade can be purchased afterwards if you wish to.
However, if you have already purchased the original Honeyside, and have your housecarl moved in, simply have her follow you somewhere else, install this mod and move her back into the new remodel as normal. The house is recognized as Honeyside. I simply use the "This is your new Home" option for the housecarl, or any other followers as contained within the mod
My Home is Your Home
.
If Iona is not at the house at all you may have to go into the original vanilla Honeyside to retrieve her. Type in console "coc riftenhoneyside" this will take you to the original vanilla house in cyber space. Tell Iona to follow you, this is very important to do as she won't show up if you don't. Once you have Iona following, then again in console type in "coc riverwood" unfortunately you cannot go back to Riften directly, but fast travel to the stables outside Riften Iona will be with you. Make sure you have told her to follow you before you leave the vanilla house or this will not work. Once you go into the new house with Iona following you, you can use the command that this is your new home and she will now stay there. I use the the mod My Home is Your Home which works perfectly for any followers.
You will need to cast the "Bless Home" spell contained with TMPhoenix's mod in order to have the children recognize the remodel as your new home. Tell them to move to the "New House" not into Honeyside. You are only able to have 2 children move into the vanilla homes, while this mod allows for a maximum of 6 children to move in, and the spell will recognize that requirement. Your spouse as well will recognize this spell, and again you must tell them to move into the "New House" not the vanilla one.
Sometimes the children will be slow in moving into the home whether it is the vanilla or a remodel version of it. Be Patient, they will show up. You can also go to another location in game and either sleep or wait for 24 hours and return home at that point. Everyone should be there. All the vanilla markers are recognized for outside play time, your spouse's activities, such as setting up a shop, as well as some special activities that have been added in for Iona to complete when she is not acting as follower. She will visit the Bee and Bard, the Temple of Mara, and some areas in the home that are not normally recognized by the vanilla package, provided she is not accompanying you on a mission somewhere. They are set on a specific schedule, so you don't need to do anything, but leave her at home.
UPDATES: overwrite existing files or use a clean install for updating the mod. I find a clean install works the best. In console type "resetinterior riftenhoneyside" once the mod is removed and before installing the new update. Save your game in between. Most of you know the drill.
CHRISTMAS UPDATE: Optional download, same process as the other updates. When you decide to uninstall and revert back to the original mod, remove the Christmas version, "resetinterior riftenhoneyside" in console to clean up the bits and pieces. Save your game again, exit, install the original mod, and away you go.
My Breezehome remodel can be found here
The Whitehouse – A Breezehome Remodel
KUDOS & CREDITS
Where to start, firstly I need to thank the two people who have mentored me throughout learning the CK and helping me trouble shoot problems, spending many long hours on chats with me to sort through things. Their sense of humor, encouragement and letting me use them as sounding boards when I wanted to give up on the whole thing, kept me going. Berticus and Gentester, I couldn't have completed the mod without their instruction and friendship. It seems so inadequate to say, but Thank you so much to both of you. I honestly didn't think it would finally be completed.
TM Phoenix for the inspiration to do this mod in the first place and for putting together a fantastic mod with his Multiple Adoptions.
A few other people were instrumental in helping me with learning the ins and outs of modding, Shezrie, for allowing me to tear apart her mod so I could learn how things worked. Niire for her tips and constant encouragement. RIP88 for letting me tear apart his pool furniture to use in my mod. OMB, Tikky, Rodnix, and many others for their tips and encouragement. Berticus and Gentester for letting me use items from their personal mods as I saw fit.
A special thank you to Merilia for allowing me to use her decorations and various items from her mod
Saturalia Christmas in Skyrim
and also for all the help she gave me in creating some new decorations for my houses.
Also, to Insanity for creating a fantastic Christmas Resource, and for allowing me to use his decorations in my own items. Gentester for allowing me to use her Darkwater China for some of my Christmas decorations.
Resources
Berticus Bits & Bobs, and many other special items he created for my mod, and for his great tutorials, which were a big help
Gentester items from her house mods, Aspen Manor & Darkwater Lodge, and many other items from her personal mods that she allowed me to use
Blary Alchemy Clutter
Food Containers
Ingredient Storage
Ingredient Jars
OpenBooks
Tamira Antique Statue
New Plants
ArionT50 Arion Furniture
BrettM FPI Experiment Pack
Elinen Hoddminirs Plants & Trees
Eldiabas WeaponRacks
TF Modular Crafting Table
Runspect Modders Resources
Elinen Spring Flowers
Tamira for Stroti Castle Furniture
Kitchen Tools
Stroti Ovens
Artsy Cat Tamegan Pillows
Yuril YuYuBarrels
Tes Alliance Various
Elinen ZTrees
Insanity Sofas & Chairs
Lanterns
Pillows, Curtains, Towels, Blankets
Toys, Soap, Wash Items, and many more
Pheo3309's SoulGem Jar Resources
Dark Rider Stoneware & Celtic Décor
I apologize if I have forgotten anyone, there has been so many fantastic resources to choose from. Let me know and I will add you into the list. Thank you to all of you as without these resources our mods would not be the best they can be.
Comments & Reviews
If you enjoy my mod, thank you and feel free to leave a comment in the appropriate section. I truly appreciate any constructive ideas and comments. However, if you do not like my mod, that is fine too, simply move on to something else that you will like. Please don't leave rude comments as they will be removed and reported, and you face the potential of being banned from the site. You have been duly warned.
Disclaimer: You may not use any part of this mod or the resources without express permission from the specific mod author/authors unless stated otherwise in the author/authors permissions.
Changelog: v1.1 Added in a new followers room and made some small changes to the crafting area.
Changelog: v1.2 Christmas version of the house
Changelog: v1.3 Fixed a few issues with some of the Christmas decorations not lighting up properly