Jaggarsfeld
Skyrim » Player homes
Added: 29/07/2013 - 07:39PM
Updated: 15/01/2017 - 12:28AM
Description
Last updated at 0:28, 15 Jan 2017 Uploaded at 19:39, 29 Jul 2013
Notice!!!
See installation instructions below for upgrading to v2.x.x. from a previous version.
Skyrim Special Edition version is here:
http://www.nexusmods.com/skyrimspecialedition/mods/1540/?
Either a strange impulse to explore the mountains southwest of Whiterun or just your adventures lead you to discover a cavern nestled within the mountains. What is this hidden valley? Who owns this cabin? What strange force drew you here? What challenges will you face in order to claim it as your own?
Welcome everyone! This is Jaggersfeld, a unique player home for the hunters out there, but suitable for everyone else too! It has some awesome features including...
The Hunters Cabin
This cabin nested in a peaceful valley comes with a mod-compatible sorting system for all your items, as well as, some fairly unique crafting stations. Every crafting station in Jaggersfeld does not require players to have the materials in their inventory. As long as the items are in the proper chests from the sorting system, the materials will be available for use with their related crafting stations.
Within the cabin players will find unique finds like a functional potion display shelf, custom decorations, a custom scroll storage shelf, and a fully functional, 100% authentic Dunmer bed! Custom decorations in the home made by Oaristys and Tony67 which can be found
here
as well as rugs made by Insanity,
found here.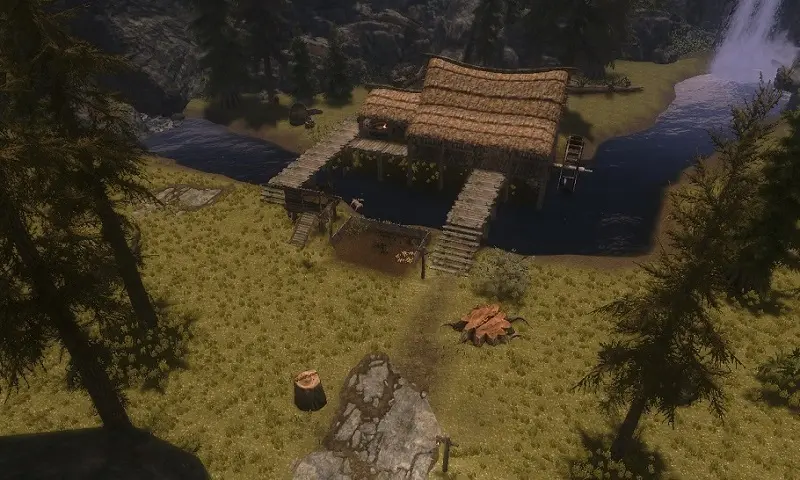 The Trophy Hall
The valley is also home to an armory that's "
not of this world
", inspired by our previous house mod,
Lair of The Crimson Scar
. It was such a popular feature that we decided to bring it back, slap a new coat of paint on it, and build an addition that houses all the favorite Daedric artifacts and trophies from the player's hunts. We also feature unique displays for your Elder Scrolls, dragon claws, Dragon Priest masks, Black Books, and even a place to put those pesky paragons from the Vale.
CAUTION: When adding items to any of the display areas, don't add and remove items rapidly, as it can cause problems.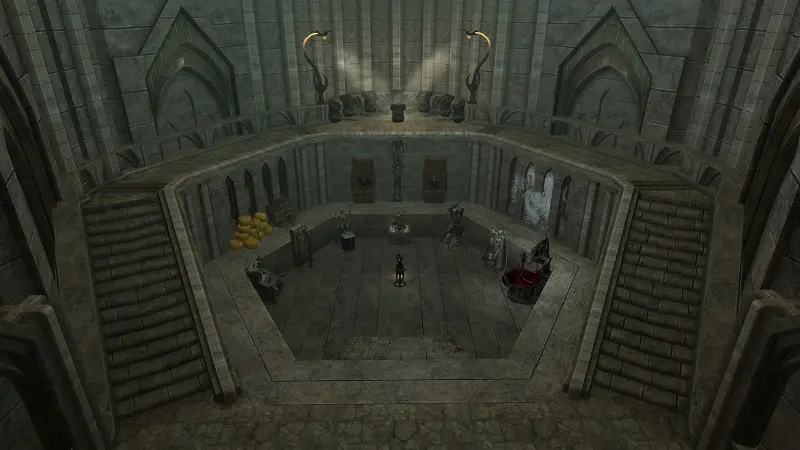 We hope you enjoy this house and all of its features, and be sure to have a look around the valley. You never know what the previous occupants may have stashed.
January 14th, 2017
Notification:
I just wanted to give everyone a quick update on the mod and myself. Currently, I have not completed any work since the last update and I have taken a break from modding for a while. I'll likely return soon and in the next update I'm wanting to get Van voiced. If you would like to try out for his voice, then use the Dev Doc (
top post in the Post section
) for the lines and guidance on the expression of the lines. When I imagine Van's voice I imagine it to be medium to deep voice, but mostly a friendly tone (
while he's not on a Hunt
). Users may record the lines and PM me a link to the files where I will download them (
Google Drive, Mega, Dropbox, One Drive, etc
). Please don't attach the files directly to the PM because I will not open them. I'm requesting a download link.
That's about all I have right now. :) I wish everyone to have a good year this year and may Hircine bless your Hunts!
December 6th, 2016
Released Jaggarsfeld version 2.5.0:
This update was all about the exterior and whipping it a bit more into shape. See the changelong for full details. No special updating; just install and play.
November 27th, 2016
Released Jaggarsfeld version 2.4.1:
Small hotfix release for some bugs. See the changelong for details. No special updating just install and play. Players using DynDOLOD may want to regenerate for Tamriel due to the added dirt cliffs and rocks to cover up the hole behind the cave entrance.
November 22th, 2016
Released Jaggarsfeld version 2.4:
Today is a big release for the mod. Jaggarfeld v2.4 main feature are updated scripts all around. Most of them were completely replaced and others were updated. The main work went into the Trophy Hall displays. They have been fully functional during my short-term testing. Lets us hope they remain so being released to you all. Please report any issues you may have! These script fixes also means the long-standing issue of a 99 limit cap on some containers is now removed. Please do not toss hundreds of items at the sorting system. It's entirely the vanilla system we're working with here!
To read about all the changes, see the Changelog!
Updating to version 2.4:
I'm recommending a new game with this update! This is because so most of the scripting has changed. It might be possible to clean all the old scripts out of your current save using Save Game Script Cleaner as I describe in the Updating Section below. However, I have no save to test this on so I'm unsure of the results. If you want to try, back up your save and follow the instruction below. Use the mod's script folder to get a reference of all the scripts the mod uses and remove them
ALL
from your save! Then follow the instructions for removing Jaggarsfeld from your game.
Collect all your stuff first or it'll be lost!
There isn't any reason cleaning your save wouldn't work, but you do so at your own risk.
November 18th, 2016
It's come to our attention that the latest version (2.3.1) may not have fixed the issue with the displays. I will work on creating a new custom solution for this which I have full control over and will
hopefully
be more hardy. There is no ETA on this work, only that I'm doing it in my spare time which is limited at the moment.
November 16th, 2016
Jaggarsfeld updated to version 2.3.1. This bugfix update is all about fixing bugs reported since its SSE release. See the changelog for all the details. No special updating required. Just install and play. Special thank you out to a few authors this round. Check the Credits section below.
Requirements:
Dawnguard DLC
Hearthfire DLC
Dragonborn DLC
Supported Mod Managers:
Nexus Mod Manager - latest stable version only. Alpha builds are not supported.
Mod Organizer - latest stable version only. Alpha/Beta builds are not supported. This is the recommended mod manager.
Wrye Bash - latest stable version only.
Install:
Users installing Jaggarsfeld for the first time or users creating a new game can simply install the mod and play. Nothing else to it!
Users who already have Jaggarsfeld installed and are updating Jaggarsfeld to v2.0 or greater must complete the following steps!
Users installing an update to version 2.x.x should check the changelog to verify if the following steps need to be performed or not.
CAUTION: Backup your save before continuing!Completing a save...
1. Load your save game and travel to Jaggarsfeld.
2. Open the console [~] and type in TGM. This allows you unlimited carry weight for the update.
3. Collect
EVERYTHING
from the Cabin, Exterior, and the Trophy Hall. Don't come complaining that you've lost your items because you didn't do this!
4. Now, leave Jaggarsfeld and travel to any interior outside of Jaggarsfeld worldspace (e.g. Dragonsreach, Riverwood Inn, etc.).
5. Save and exit the game completely.
Uninstall Jaggarsfeld
1. Now uninstall Jaggarfeld using your mod manager.
2. Re-load the save from Step 5 above. Click Yes to the prompt about missing content.
3. Once the save is loaded, save the game again using a new save.
4. Exit the game again. You've save is now clean of most of Jaggarfeld. Continue below to clean the scripts.
Clean the scripts from your saves...
1. Download
Save Game Script Cleaner
, if you don't already have it.
2. Extract the mod and double-click
SaveTool.exe
to run it.
3. Click the Open button at the top right of the window.
4. Locate your save from above and click open.
5. In the Scripts textbox at the top left, type in "HCScrollHolder" (without the quotes).
6. In the pane below the textbox, expand the
Scripts 1
tree.
7. Select the
HCScrollHolder
script.
8. Click the "Delete selected" button above the pane.
9. Repeat Steps 5 through 8 above for the remaining scripts listed below:
_sgaCraftingAutoLoot
_sgaCraftingSpell
QF_HCJaggarsfeld_05088B64 (if present)
10. Now, at the top right of the window, ensure the "Auto backup" checkbox is ticked and click Save.
11. Click Okay to the pop-up and then close the program. Your saves are now clean of the scripts which required resetting.
Finishing up...
1. Now install the latest file for Jaggarsfeld.
2. Sort with LOOT, letting it decide the placement.
3. Load your cleaned save from the steps above in "
Clean the scripts from your saves...
".
4. Open the console [~] and type in TGM. Tap the run button if you're walking slow.
5. Travel to Jaggarsfeld.
6. Complete the quest.
7. Replace all your items to their proper locations.
8. Open the console [~] and type in TGM.
9. Save your game. You've completed the update! Game on!

========================================================================================================================
To uninstall Jaggarsfeld:
Collect anything you do not want to lose from the Cabin, Exterior, and Trophy Hall.
Save your game outside of the Jaggarsfeld worldspace (preferably in an interior space).
Exit the game and remove Jaggarsfeld.
Reload your save from step 2. Click "yes" to the warning.
Once loaded, re-save and exit once more.
Your game is now clean of Jaggarsfeld.
A big thank you go out to Gopher for showcasing our little mod on his channel!
The following are mods we recommend using with Jaggarsfeld.
Fixes
BethINI by Vuud/DoubleYou () - Okay, so this one isn't a mod. It's a tool that will clean up your INIs and make sure there aren't any erroneous edits which could cause issues in the game. You should try it out! If you ask for support, you're going to be asked to run this tool to make sure the issues aren't in your INI files.
USLEEP by Arthmoor and Team () - If you're not running this, you should be. This fixes hundreds of issues left in by Bethesda.
Unlimited Bookshelves by da5id2701 (link) - This mod allows you to store a lot more books on the shelves for you collectors.
Textures
Bethesda for making Skyrim, making it moddable, and providing the tools to do it.
Nexus for providing the best sharing platform for modders.
xJACKTHERIPPERx and DarthXile for creating Jaggarsfeld.
TechAngel85 for continued maintenance and willingness to keep Jaggarsfeld alive.
Big thanks to Sjogga for the sorting system resource and the claw holder script. It can be found here.
Windaddict for the tutorial on potion racks
IsharaMeradin for helping to finally sort out the scripts for the Daedric Display area.
Kesta and SparrowPrince for help with some script issues.
Kobayashi345 for the display case texture (Link)
Arrioch for the Trophy Hall door texture (Link)
Stoverjm for Open Books Library (Link)
Finally, a thanks to the community and users who have tried Jaggarsfeld! We're blown away by all the comments and compliments from you guys. Thank you!