Description
Last updated at 15:10, 25 Jan 2013 Uploaded at 23:39, 3 Jan 2013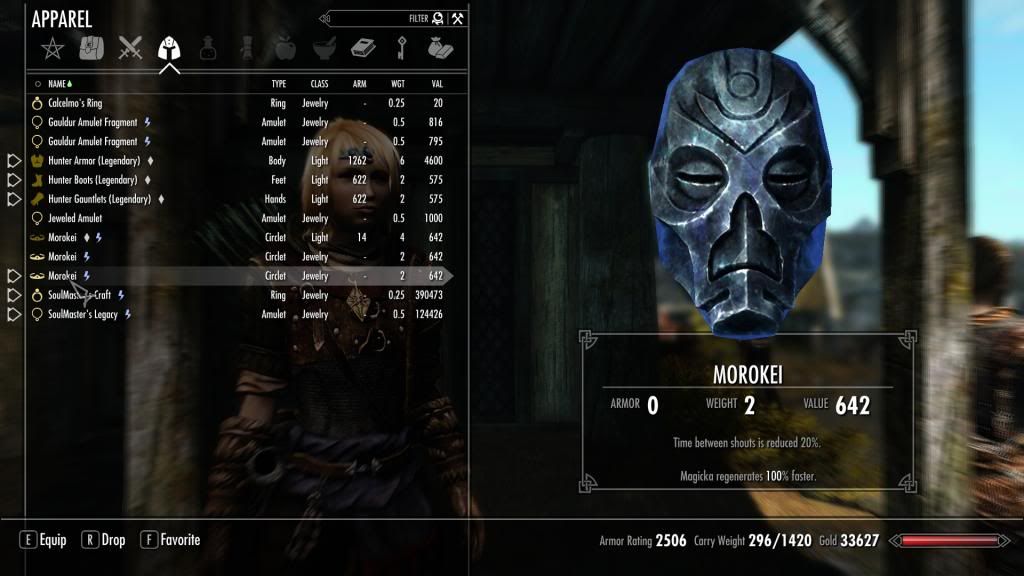 This is a mod in response to a user request on the mod forum.
What does the Mod do?
The mod adds a choice of Alternative Morokei's Dragon Priest Masks. Which appear as a Silver and Moonstone Circlet when worn.
Plus new Morokei Mask fixed!
Also fixes the original Masks wearer bug and enchantment!
The original mask has various issues including:
The players head can sometimes disappear!
The original enchantment is incorrect
The mask is rated as Light Armor, thus affecting the Mage Armor Perk
It hides the players face (naturally!)
I have created 4 different alternative Morokei masks
Plus I have fixed the original too!
All 4 Masks now have the correct enchantment as was originally intended by Bethesda
Magic regen 100% Faster and time between Shouts is reduced by 20%
Mask 1 Looks like the original when viewed unworn and has the same stats (Light Armor, Enchantment etc) when worn however it appears like a circlet.
Mask 2 Looks Like the original when viewed unworn but has no armor stats (still has proper enchantment) thus enabling the Mage Armor Perk, Appears like a Circlet when worn.
Mask 3 Looks like a Circlet worn or unworn (no armor stats) has proper enchantment.
Mask 4 Looks like original mask worn or unworn but has no armor stats and proper enchantment, thus enabling the Mage Armor Perk.
To obtain the masks head over to Belethor's General Stores in Whiterun.
Inside the store behind the counter there is a strongbox containing the 4 masks.
Installation:
For ease of installation download and install using the Nexus Mod Manager.
I hope you enjoy using the mod and find it useful?
Please feel free to leave any feedback, bug reports etc.
Bear in mind though, this mod was at the request of a user, if you don't feel the mod suits you, is lore breaking etc, then just move on to another mod!
Please take note: If you are using a pirated (ie non Steam enabled) version of the game, please do not leave comments about how this part of my mod or that is not working on your game! I am not prepared to waste my time trying to help you out with your illegal software! I'm unemployed, but still manage to pay for my games (they are what keep me sane) so if I can, you should be able to as well!
SoulMasterII
I'm aware there is already a mod on the Nexus that does very similar, but the Circlet created in that mod is a Gold and Ruby one. The request for this mod was for a Silver and Moonstone Circlet.
Version History:
V1.0 Initial release
V1.1 Fixed original masks wearer bug and enchantment plus added 4th mask
Please, DO NOT upload any part of my mods anywhere else!