Description
Last updated at 12:44, 27 Mar 2013 Uploaded at 17:39, 30 Jul 2012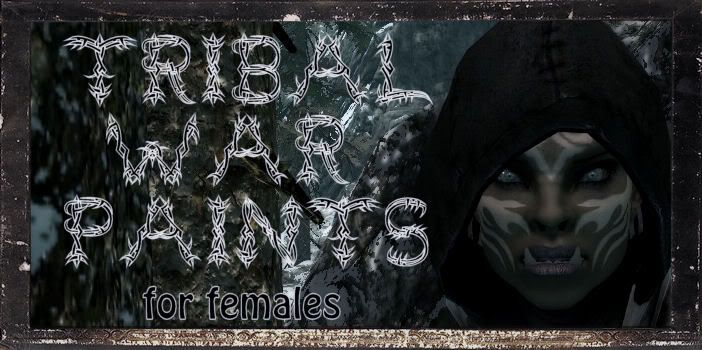 This mod will no longer be monitored/updated. I apologize for any inconvenience. I will leave it up on the Nexus for use but will not be checking for comments, questions and such. The description is pretty clear, and if you are stuck, please check comment thread, as someone else may have found the same bug.
This mod is a stand alone (non-replacing) set of 8 tribal war paints for
female non-beast, non-custom races.

Installation:
Copy the .esp and .bsa files and paste them directly into your Data folder.
To Uninstall:
Remove Tribal Warpaints for Females.esp and
Tribal Warpaints for Females.bsa from your Data folder.
(Data folder normally found here >>> C:\Program Files (x86)\Steam\steamapps\common\skyrim\Data)

The lastest version of this mod will now work with
Extended Slider Colors
. Please load this mod
after
that one or it will not show up.
To the best of my knowledge, this mod will not work with other
stand alone war paint mods. I have tried to use a few different war paint
mods at once and only the last in the load order will show up in
the character creation screen.
This mod is not compatible with Female Orc And Followers walk and animations fix by chaosknight19
. The war paints will show up on all races but the orc when the female orc walk only version of that mod is installed along with this one. I am not quite sure why these 2 mods will not work together and have been unable to find a solution. My apologies to all who would want to use both of these mods together.
No other bugs known at the moment, please let me know if you find them.

These war paints were made with free stock brushes for Photoshop and GIMP,
and my own personal additions or edits.
Many cool brush sets can be found at http://brushes.deviantart.com/.

Thank you to all the hard working talented modders out there that graciously share their
work with us.
**********
Mods used in screenshots and HIGHLY recommended:
Coverwomen
Women of Skyrim-Enhanced female normal maps
Covereyes
83Willow's Whiter Teeth 4all
ApachiiSkyHair
HN66s Earrings
Hood in title image is from Dread Huntress Armor
http://skyrim.nexusmods.com/mods/21125/
and a very special thank you to 83Willow for the use of her "Orc Eyes" and patiently answering all of my questions!