Description
Last updated at 2:29, 23 Feb 2017 Uploaded at 4:01, 5 May 2012

If you experience any bugs I can't fix them unless you bring them to my attention so be sure to let me know!
Description
Changes the way skill books work so that you may choose if/when you gain a skill from it. Upon activating a book a menu will appear allowing you to select if you want to read the book and gain its knowledge at that time, simply take it without reading or just leave it where it is.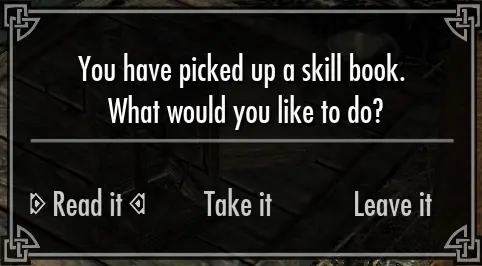 No more needing to have your companion pick it up for you to get around the auto level.
While USLEEP's fixes have all been carried over there is no requirement to use it. (Verified up to v3.0.8)
Features
Only uses a single script that is only active when you activate a skill book.
Comes in five base styles:
Non renaming style. Just adds the NASB menu to all skill books
Sorted After i.e. Book Tile (Skill)
Sorted After with better quest and map names i.e. Book (Map Marker) or (Quest)
Sorted Before i.e. (Skill) Book Title
Sorted Before with better quest and map names i.e. (Quest) or (Map Marker)
Has support for:
The NarrativeLoot - Open Books addon is just that. It only adds the NASB menu for the NarrativeLoot Books. You need one of the other files to get the full experience. The NASB-NLB*.esp is meant to be merged with your patches or merges but is fine stand alone also.
Includes a few configuration options:
By default sneaking will automatically add the book to your inventory without opening the menu.
The mods functionality can be disabled entirely by typing "Set BSBConfig to 0" in the console.
Known Quirks
Taking a book, by either sneaking or selecting the option in the menu will not account for ownership of the book.
So even if it is technically stealing, no bounty will be added.
CREDITS
Griptzion
for the original NASB mod and for giving me permission to take it over.
Sakr3d
for building a custom fomod for NASB.
My Mods:Book Covers Skyrim (USLEEP) Patch
Books of Skyrim Patch
Hearthfire Materials Warehouse
Kels' Immersive Simple Small Mod Emporium -KISS ME-
Vendor Stock Mods
The Dawnguard Brotherhood Reborn
More Elemental Soul Trap Enchantments
Legendary Player Home Map Markers
Twila the Assassin Wife and Follower
Ring of Waterwalking and The Waterwalking Enchantment
Legendary Skyrim Sorted
Patch for An NPO Module Crossbows
Better Sorting for - An NPO Module Crossbows
Working Trick Shot Archery Perk (ENG-GER-ITA)
Better Starting Equipment
Non-Automatic Skill Books