Description
Last updated at 12:55, 28 Mar 2017 Uploaded at 21:41, 6 Jun 2011
00.REQUIRES:
-NEW VEGAS SCRIPT EXTENDER
-FALLOUT 3 (For Fallout 3 Records)01.DESCRIPTION:
This is a novelty mod that adds several new systems to the Fallout game, most of which have been released in
Rough Form already. They are now far more polished, and heavily interwoven into one single mod. It also
adds new functionality like being able to grab some of these objects straight from the game world, and
the new and improved Simple Grab system with Book Reading Hotkey.
Crates:
Sorting crates which at the moment support a large amount of original Fallout 3 items, but no
New Vegas specific items. Crates have their own special destruction meshes, which make them fall apart
in a realistic manner.
Fans:
Animated fans that very slowely sooth your radiation burns, has two modes of animation. Requires, but
does not spend, one energy cell while in use.
Lamps:
Portable light sources. Still a bit iffy about the light coronas. Requires, but does not spend,
one energy cell while in use.
Radios:
Portable radios which can pick up 3 of the New Vegas Radio Stations. Requires, but does not
spend, one energy cell while in use.
Books:
The 'Chronicles of War' book system has been heavily revamped. Books can now be read anywhere, at
any angle, while grabbed or using the Special Book Reading Hotkey in Simple Grab 2.
Gramophones:
Gramophone and EP/LP records of fallout 3 music. Records now also come in Havoked
Gatefold Sleeves. **Read the Supplementary text file to find out how to add Fo3 music to this part of the mod.**
Television:
A television which allows you to play Holo-Disks. Supports two different Holo-Disk
players, remote control. Requires one Fission Battery. Now 60% larger in size.
All items have been distributed through 5 wasteland sellers. These include: Chet, Cliff, Graff,
Gibson, Nash. The Collections ESP's distribute a bit randomly for variation and collection hunting
purposes. All items have been properly inventory sorted.
02.DISCLAIMER:
I still have not properly played Fallout New Vegas. If there are any issues I will fix them on my first play-through,
which will start momentarily.
03.HOW MY PORTABLE MODS OPERATE:
-Activate to "Place" an Object (Locks it down)
-Activate to interact with Placed Objects (Brings up Menus or Changes a State)
-Some Objects like Books or Loaded Gramophone Records require the use of
Left or Right Arrow Keys + Activate. This will either skip a track or flip a page.
-Books don't get Placed and can be interacted with instantly. Books require you to use 'Simple Grab'
before you can enter Reading Mode.
-Grab+Activate will pick up Placed Objects.
-Active a loose record to remove it from its jacket, or use Grab+Activate to pick it up.
Watch the 'Gadgetology 101' Video if you have further queries about controls.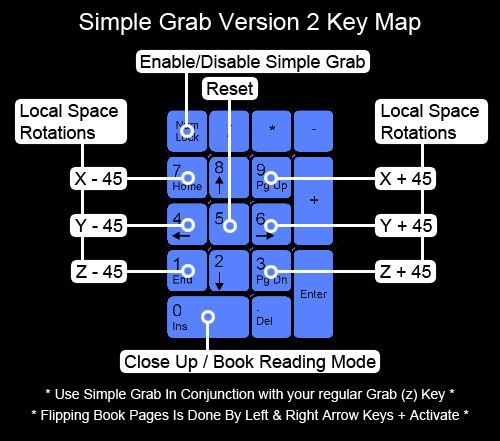 All keys can be rebound by editing their global variables in FNVEdit, using NVSE's Scancodes.04.LOAD ORDER:
RZW_Master.esm
RZW_Portables.esm
....
RZW_BookCollection.esp
RZW_RecordCollection.esp
RZW_VideoCollection.esp
RZW_SimpleGrab2.esp
05.UPDATES:
1C - Optimized the books by removing several hundreds of unused keyframes, shaving off 33% of the total file size.
Now uses texture sets and only one mesh for an even bigger boost.
This may be the final update to this mod as I'm closing the chapter on this old series of work.
OST Pack - 5 New records, 2 versions each. Wait one day for these to appear in vendor lists.
1B - Fixed an issue with multiple TVs, being added on grab. Its possible it affected the other gadgets as well.
1A - Forgot to revert part of the remote control script back to working state. This is fixed now,
remote control should work fine.
06.CONFLICTS:
None that I know of. Only 2 objects are overridden in the game, the milk crates and bear traps.
07.BUGS:
-Books are a little tricky to rotate in simple grab mode because they are offset for the special reading mode,
I haven't worked out the proper maths equations yet.
08.UNINSTALLING:
If you need to uninstall this mod for some reason, whether its one ESP or more, Id recommend disabling the whole
thing and doing a clean save. Ive gotten into the habit of using Form Lists quite extensively, and I'm how
removing parts of it would affect them.
09.Q & A:
Q - I can't get it to work.
A - Did you install the latest NVSE? It wont work without it. You may also need to set up Archive Invalidation.
Q - Can I use part of your mod in my mod?
A - Get in touch via PM and we'll discuss things.
Q - Can I make more books/records/videos and release them?
A - Sure, as long as you source from my master files and redirect people to them,
I wont allow rewriting or touching the masters.
Q - If I do make custom content, does it need to be sold or can i add them to my mods exclusively.
A - Just don't add them to a sale list.
Q - You never answer your messages.. whats up with that?
A - Sorry, I'm typically very busy. Very much so this year, get in touch via PM if its urgent.
Q - There are bugs!
A - If there are I'll fix them when I can spare the time.
Q - Part 'X' of your mod offends my delicate sensibilities, please change it right now!
A - Buh-Huh for you. I don't get payed for this.