img 3 loading...
img 4 loading...
img 5 loading...
img 6 loading...
img 7 loading...
img 8 loading...
img 9 loading...
img 10 loading...
img 11 loading...
img 12 loading...
img 13 loading...
img 14 loading...
img 15 loading...
img 16 loading...
img 17 loading...
img 18 loading...
img 19 loading...
img 20 loading...
img 21 loading...
img 22 loading...
img 23 loading...
Description
Last updated at 15:51, 22 Sep 2016 Uploaded at 15:52, 29 Mar 2011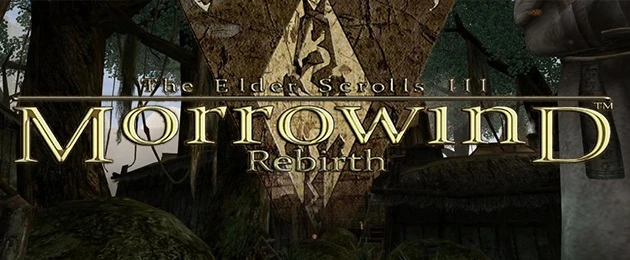 QUOTE
"Explore the island of Vvardenfell as you never have before, with a world built anew to be both alien and familiar to the Morrowind you knew before. New adventures await, with new exciting areas to see and explore, and new artifacts just waiting to be discovered. This is a complete overhaul for Morrowind, adding countless new details, weapons, armors and much more for you to see and do. Experience the world of Morrowind in a new light, try out Morrowind Rebirth today!"
Please keep in mind that this mod is a work in progress, meaning that things can and will most likely change from version to version. For those of you who want more information about the specific changes in this modification, please refer to the following changelog: http://www.moddb.com/mods/morrowind-rebirth/features/changelog7 and/or watch the video below for a general overview.



Features

New encounters and places to visit
Explore the Island of Vvardenfell once again, but keep in mind that things are not what they used to be. New packs of bandits and villains have more difficult to travel throughout the wilderness, new dark cults have formed, and it's harder than ever before to survive in an already dark and hostile environment.

Rebuilt cities with loads of details
Cities are no longer empty shells with a few NPCs wandering about. Expect a massive increase in detail including new traders, NPCs, houses, shops, Inns and an overall feel that cities are actually "alive".

More than 20 new creatures to battle
Encounter new vicious creatures such as the mighty Draugr Deathlord, the chilling Frost Monarch or the agile Ash Scorpion. Beware, these foes are not to be taken lightly!

New weapons, armor and misc items
Battle your way throughout Vvardenfell with a vast array of new weapons and armor, both normal ones that complement existing sets, and uniques'  that are far more powerful.

New music, splashscreens and main menus
Included are new tracks, suited for both battles and for exploration, 11 new beautifully crafted splash screens, and two new main menu screens. These additons are optional, and not needed for the mod to function properly.

Better landscapes with less seams and floaters
In Morrowind there were a lot of empty flat areas and very little efficiency in use of space. With Rebirth I've tried to eliminate these issues, giving each area a unique look. There has also been an effort to eliminate all texture seams and floaters throughout the world.

Balance tweaks and bugfixes
Fixed a large number of floaters, reduced clipping meshes, corrected miss-aligned objects and fixed some script/text bugs. Also tweaked settings, spells, weapons, armor, misc items, merchants etc to make the game more balanced and thus more enjoyable.
F.A.QBugs and other issues
It's important that you, the players, provide me with feedback and support. Without it I might not be able to track down bugs introduced by Morrowind Rebirth. You're also welcome to report issues found in vanilla Morrowind. Please use the "bugs" tab here on Nexus to report bugs and issues.
Morrowind Graphic and Sound Overhaul and Morrowind Rebirth
Morrowind Rebirth is nothing like MGSO. Rebirth is all about enhancing the in-game experience by overhauling cities/landscapes, by fixing bugs and balance issues, and by introducing new creatures, weapons and armor-pieces. MGSO as you might have noticed by now, is all about graphics and sound. Obviously there are some graphical elements in Rebirth, but these are mainly mesh-replacers, and are aimed to make the in-game models a bit easier on the eyes.
With that said, is Morrowind Rebirth compatible with MGSO? That depends! There are some things you need to do in order to avoid issues (though you may still experience some issues). Start by downloading MGSO, then click the installer and follow the instructions until you reach to "custom option"-screen. Now keep in mind that you need to tick the "custom mod" option for each flora region. You will also need to deactivate grass by choosing "no grass" for both Vvardenfell and Solstheim. Last but not least. Do NOT tick "Animated Morrowind". It's not compatible with Morrowind Rebirth.
When you've completed the installation, please continue with Morrowind Rebirth. Extract the files to your Morrowind root folder as stated in the Morrowind Rebirth readme. If you're told to overwrite any files, press "no" (I've had a few people reporting that pressing "yes" might cause issues). There's also five plugins included in the MGSO archive that need to be removed: "Texture Fix 2.0.esm", "Poorly Placed Object Fix 1.2.esm", "Morrowind Patch 1.6.5 Beta (BTB Edit).esm", "Windows Glow" and "Animated Morrowind". That should be it.

Old Save Games
Please read this article:
http://www.moddb.com/mods/morrowind-rebirth/tutorials/how-to-update-your-old-save-game-to-a-new-version-using-wyre-mash
Installation and requirements
Please read this article if you are new to mods:
http://www.moddb.com/mods/morrowind-rebirth/tutorials/installation-requirements


Compatibility
Morrowind Rebirth is a huge modification and will not work well with a lot of other mods, especially those that alter landscape or add new buildings. There's no list of specific mods that work with Rebirth, but the most popular ones like "Tamriel Rebuilt" and "LGNPC" should work just fine (minor issues). Mods that add or alter dialogue should work well too. If you have any other questions regarding mods and compatibility, let me know and I'll try to answer them for you.
WARNING

Do not use "Morrowind Rebirth 3.7 - Morrowind Patch 1.6.5 Beta [Rebirth Edit]" included in the Morrowind Rebirth archive along with "Morrowind Patch 1.6.5 Beta", "Morrowind Patch 1.6.5 Beta [BTB Edit]" or the "Unofficial Morrowind Patch Project". Also note that "Texture Fix 2.0", "Poorly Placed Object Fix v1.2", "Windows Glow", and "Animated Morrowind" are not compatible with Morrowind Rebirth.